Empowering people to adapt on the frontlines of climate change
Published on:
Apr 19, 2022
Apr
19
2022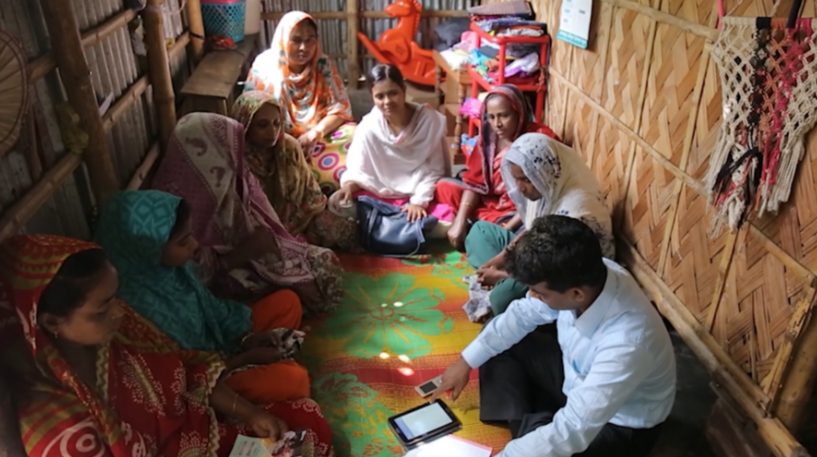 On April 11, MIT announced five multiyear flagship projects in the first-ever Climate Grand Challenges, a new initiative to tackle complex climate problems and deliver breakthrough solutions to the world as quickly as possible. This article is the fifth in a five-part series highlighting the most promising concepts to emerge from the competition and the interdisciplinary research teams behind them.
In the coastal south of Bangladesh, rice paddies that farmers could once harvest three times a year lie barren. Sea-level rise brings saltwater to the soil, ruining the staple crop. It's one of many impacts, and inequities, of climate change. Despite producing less than 1 percent of global carbon emissions, Bangladesh is suffering more than most countries. Rising seas, heat waves, flooding, and cyclones threaten 90 million people.
A platform being developed in a collaboration between MIT and BRAC, a Bangladesh-based global development organization, aims to inform and empower climate-threatened communities to proactively adapt to a changing future. Selected as one of five MIT Climate Grand Challenges flagship projects, the Climate Resilience Early Warning System (CREWSnet) will forecast the local impacts of climate change on people's lives, homes, and livelihoods. These forecasts will guide BRAC's development of climate-resiliency programs to help residents prepare for and adapt to life-altering conditions.
"The communities that CREWSnet will focus on have done little to contribute to the problem of climate change in the first place. However, because of socioeconomic situations, they may be among the most vulnerable. We hope that by providing state-of-the-art projections and sharing them broadly with communities, and working through partners like BRAC, we can help improve the capacity of local communities to adapt to climate change, significantly," says Elfatih Eltahir, the H.M. King Bhumibol Professor in the Department of Civil and Environmental Engineering.
Eltahir leads the project with John Aldridge and Deborah Campbell in the Humanitarian Assistance and Disaster Relief Systems Group at Lincoln Laboratory. Additional partners across MIT include the Center for Global Change Science; the Department of Earth, Atmospheric and Planetary Sciences; the Joint Program on the Science and Policy of Global Change; and the Abdul Latif Jameel Poverty Action Lab.
Read more at https://news.mit.edu/2022/empowering-people-adapt-frontlines-climate-change-0419
---