Gordon Engineering Leadership Program (GEL)
Published on:
Dec 10, 2018
Dec
10
2018

By Amber VanHemel '19
GEL or the Gordon Engineering Leadership Program is a one to two-year program for juniors and seniors interested in developing leadership skills. GEL is preparing me to not only be aware of the opportunities as an engineer in industry, but also to be an effective engineering leader. I am now in my second year of the program (i.e. a GEL 2), but wanted to share a little bit about my experience, leadership development, and the program as a whole!
First, what does an engineering leadership program look like week to week?
In the first year of the program (GEL 1) there is a discussion-based class where we talk about engineering leadership capabilities and learn about leadership styles. There is a lot to unpack about leadership because everyone takes a different approach to leadership. GEL has exposed me to many different leadership styles as well as the importance of both leadership and followership.
A key component of the program (and my favorite aspect) is the Friday Engineering Leadership Labs (ELLs) with two-hour hands-on labs working on a team of GEL 1s to engineer a solution. The simulations have ranged from advocating for a path forward to a CEO, a series of negotiations to design a new and improved student center, and building bottle rockets!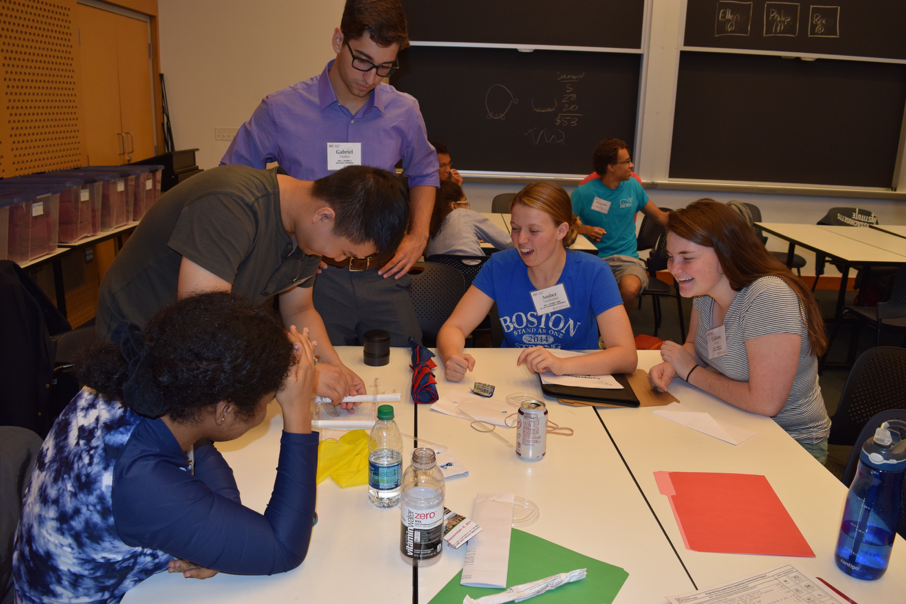 My GEL 1 group last fall during my first ELL (Engineering Leadership Lab) of the program!
Each ELL focuses on a different set of capabilities of effective engineering leaders. In the first year of the program, there is a lecture and discussion based class: Engineering Leadership (EL) that goes more in depth and serves to promote discussion and reflection on these capabilities. The capabilities cover topics from attitudes of leadership, relating, making sense of context, visioning, delivering on the vision, and technical knowledge and reasoning. There have been numerous capabilities that I have identified through GEL and continue to work on, which extend beyond GEL and into CEE.
For example,
 Thinking creatively and imagining possibilities:brainstorming natural materials that float and could be used as buoys on a biodegradable drifter.
Resourcefulness, flexibility, and change: while on TREX 2017, we ran out of falcon tubes for our field work involving soil nutrients and after a quick trip to the store, came back with travel-sized shampoo and conditioner bottles as a replacement.
Diverse connections and grouping: I'm currently in Nepal working on a water quality project and learning how the cultural differences influence lab work and procedures.
There is also a design requirement, where program participants can opt to take EID (Engineering Innovation Design) or D-Lab Design. In D-Lab Design, after learning about the design process and how designers might start with tons of ideas but eventually choose and develop one. My team, team aMAIZEing, worked on a project in South Africa and partnered with an NGO there to improve the mealie cooking process for mealie cookers. There is a litany of issues with the process as it is now, it's inefficient, dangerous (mealie cookers often get burned from the engulfing flames), etc. In D-Lab Design in particular I was able to utilize my CEE and GEL background to develop, iterate, and deliver a prototype for a concrete, insulating stove base.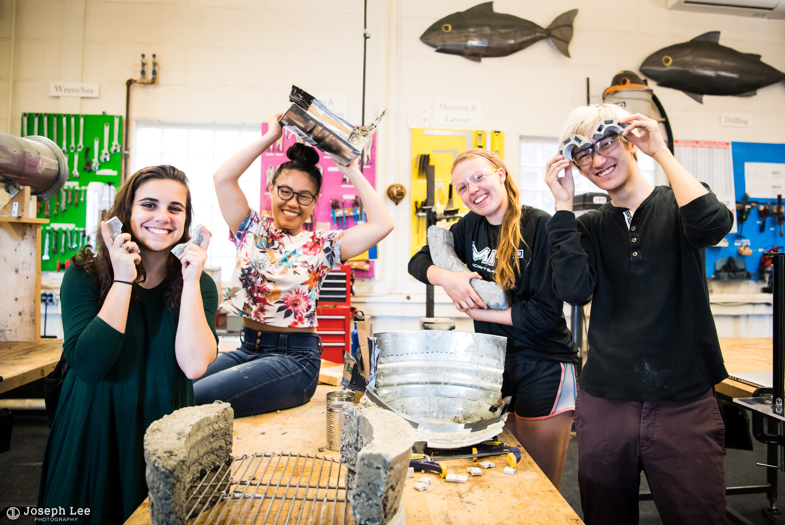 My D-Lab Design team posing with some of our prototypes
I am now in my second year of the program. As GEL 2s, we guide GEL 1s through the program (leaders leading leaders)! There is a range of roles that GEL 2s assume from taking point on evaluating assessments to coaching teams of GEL 1s. For the fall, I was the student leader of the GEL program, which means I oversaw the entire cohort of GELs. Fortunately, I had a great crew of GEL 2s that I could depend and rely on since everyone is invested to help GEL 1s grow and develop as leaders.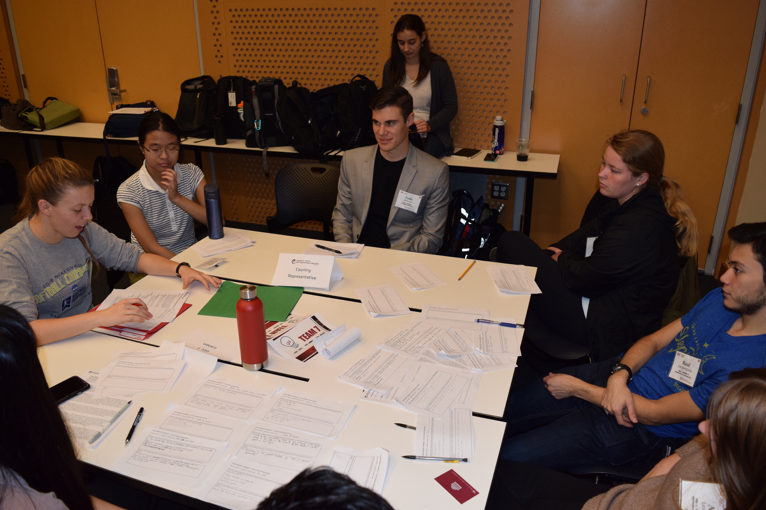 Giving feedback to a team of GEL 1s during our Diverse Connections ELL "Breaking the Ice."
Being a part of the GEL program has been a very formative experience for me. I did identify as a leader before entering GEL yet that's not the case for some of my peers. For me, I see it as a valuable way to refine/reflect leadership as well as hear anecdotal stories from other GEL students, program staff, and engineers in industry that visit class on Fridays. One of the most impactful things, I have learned about leadership development is that it requires reflection and intrinsic growth. As I continue to figure out my next steps post-graduation, I am excited to seek out opportunities to continue to grow personally and professionally.
---