ONE-MA3: Castle on the Hill
Published on:
Jul 19, 2019
Jul
19
2019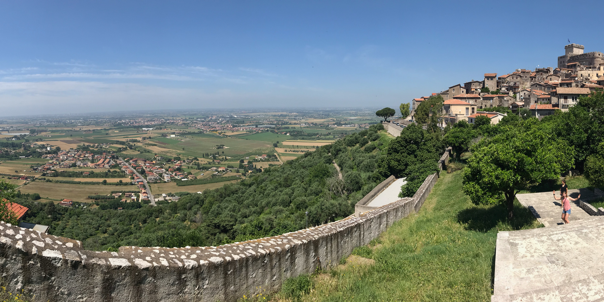 By Anna Landler '22
I went into this trip with few expectations. That's not the same as low expectations. I simply did not have any concrete things that I expected. I had a notion of general positive feelings towards the trip to Italy, and that's about it.
The first few days were incredible. We arrived in Sermoneta, a hilltop town purposefully stuck in a prior century, I'm talking cobblestone roads that barely fit a large car. These streets were soon home to 15 jet-lagged, travel-dressed American students. As we traipsed through the town, the locals, who are always inexplicably sitting outside their homes, were confused by the sudden crowd of students.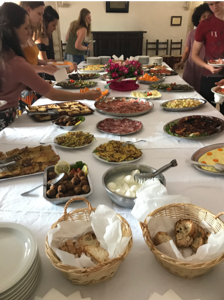 Dinner the first night
            Over the next couple of days, we engaged in a medley of activities from leisurely strolls around the town (including exercises in surmounting a language barrier to buy shampoo) to kayaking down a stream (someone accidentally turned the wrong way every 60 seconds) to examining old limestone kilns (Admir karate chopped a block with his hand, and can now say he broke a rock) to playing volleyball in the courtyard (the record currently stands at 55 consecutive passes).
That was all well and good. We eased into our learning with Vitruvius readings and introductions to conservation tools after lunch (pasta + more) and dinner (pasta + more) at the castle (Castello Caetani, a 16thcentury castle where we are staying at for 10 days).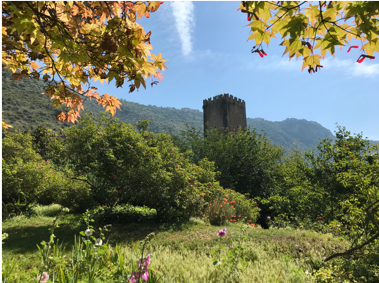 The Gardens of Ninfa, where the ruins are integrated into the beautiful landscape as you walk through them
Then, we hit the ground running (literally) after going for a quick run in the morning, I boarded the bus and soon enough we were at the "The Gardens of Ninfa," the "most romantic gardens in the world… or maybe just in Europe" according to Admir. But they are more than just gardens. They are gardens embedded in medieval ruins. And there, in the romantic-medieval-garden-blend, we proceeded to take thousands of photos…not joking. We were doing photogrammetry. Photogrammetry is essentially taking lots of pictures at various angles and distances in order to recreate 3D objects digitally. We had an introduction yesterday with a small statue, but here is an enormous difference between recreating a lovely, symmetric, smallstatue and vegetation-covered, crumbling, largecastle ruins. We learned this the hard way, as we struggled to capture every angle possible in 100s of similar-looking photos clogging our camera rolls. We even used drones to aid in our data collection. Finally, we used X-ray fluorescence (XRF) to determine the molecular makeup of the ancient flaking frescos on the wall and thermal imaging to determine the presence of water.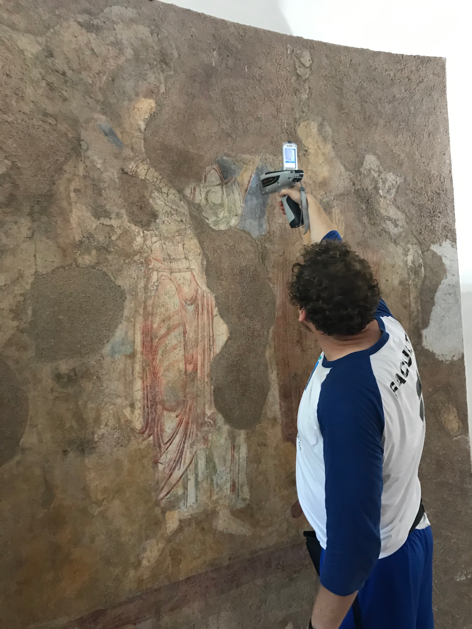 Professor Masic uses the XRF gun to evaluate elements in pigments of a fresco
            Now, here's the important part: why? Why did we spend 7 hours in 90-degree weather taking the same photos over and over? Well this trip is ONE MA3: "Materials in Art, Archaeology and Architecture", a precursor to MIT's class 1.057: "Heritage Science and Technology". So not only are we learning about those 3 A's, but we are applying them to conservation. Heritage is an essential part of the human experience: it's ingrained in our traditions, pride, and culture. And it's hard to preserve. You think that water, vegetation, a cobblestone make for resilient structures? They don't. And it's up to conservation scientists such as Admir and the group working with us (Area 3) to evaluate risks and preserve precious parts of our history.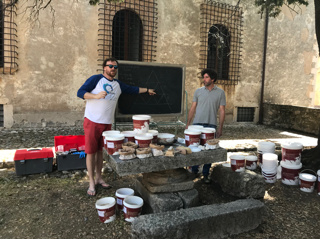 Lessons on cement composition; followed by us digging into all of those buckets as 4 teams competed to make the strongest and most sustainable cement. 
---