ONE-MA3 – Day XX: Photogrammetry among Pharaohs!
Published on:
Jul 17, 2019
Jul
17
2019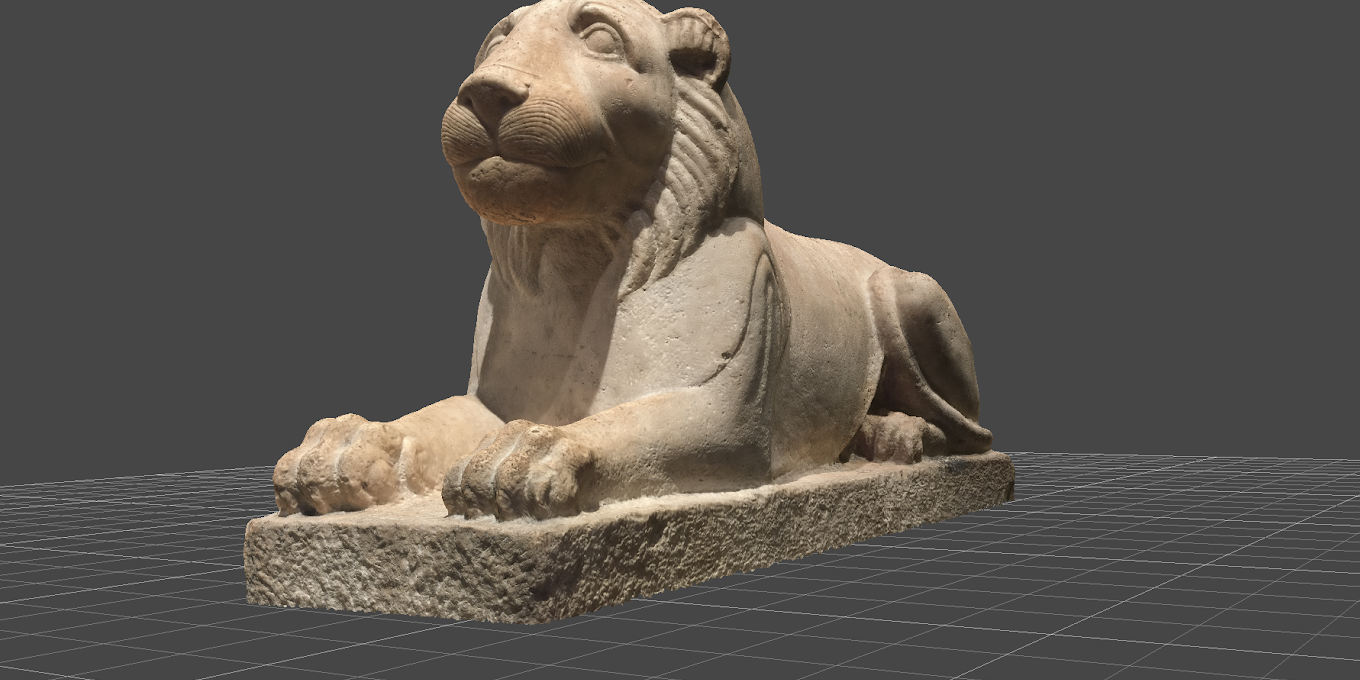 By Sophia Mittman '22
Today, we got to be professionals. At least, the red bars of tape that blocked off certain areas of the Museo Egizio for us to work in made us feel like we were! Basically, each of the four teams was given a separate scavenger hunt—a scavenger hunt that took us to four or five different artifacts throughout the museum with the mission of taking photographs of each object during the museum's open hours, making sure to reach every possible nook and cranny on the surface of each artifact that we could reasonably reach. Sometimes we had to photograph small statuettes that were missing their top half. Other times we had to photograph large objects, like giant rectangular stone sarcophagus containers, or even larger objects that required us to climb a ladder in order to get pictures of a tall, stone sarcophagus from the top down. My favorite object that we were assigned was a stone tiger, sitting regally in a position similar to that of the iconic Egyptian Sphinx. Even though the signs on the other side of the red boundary tape said "ongoing research activities", I'm sure it looked like we were avid tourists, ensuring that we got as many clear photos from every angle of each artifact as possible.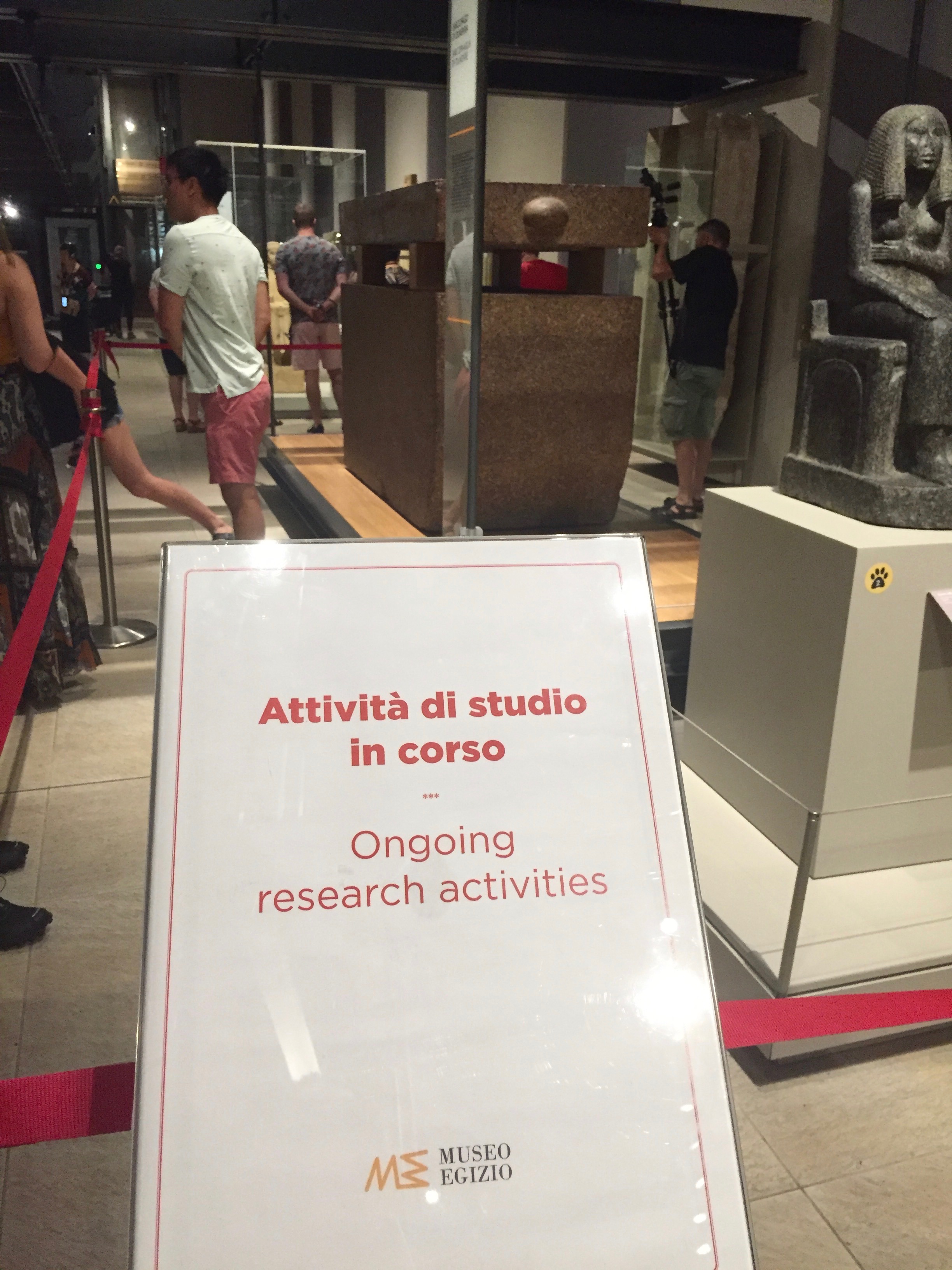 Our exclusive research area at the museum
            Once complete with the physical task of photogrammetry, we took all of those photos and turned them into 3D models for a slide presentation on our computer software, Metashape. The first section of our presentation slides summarized our findings of the relic box that we had analyzed the day before. Then, along with the photogrammetry models, we carefully thought out all of the challenges that go along with completing photogrammetry, which I hadn't ever thought about before but now understand why they need to be considered whenever performing photogrammetry. For example, one of the biggest challenges is lighting. If an object is not well lit in some places or is half-covered by shadow, some of the three-dimensional details and/or textures may be lost in the final digital model, and the lines between the lit areas and shadow will be distractingly noticeable. Another challenge we faced (especially in the museum setting) concerned shifting backgrounds/environment for photography. Tourists and fellow researchers are constantly moving, either in the background behind the object or in the way of it. With shifting backgrounds, it takes the computer software much longer to align photos for the final model, if it is able to align the photos at all. Finally, one of the most simple issues that comes with being physically able to take pictures of an artifact from all angles, especially if it is in a museum up against a wall, inside of a display case, or surrounded by other artifacts that may block particular views of the object.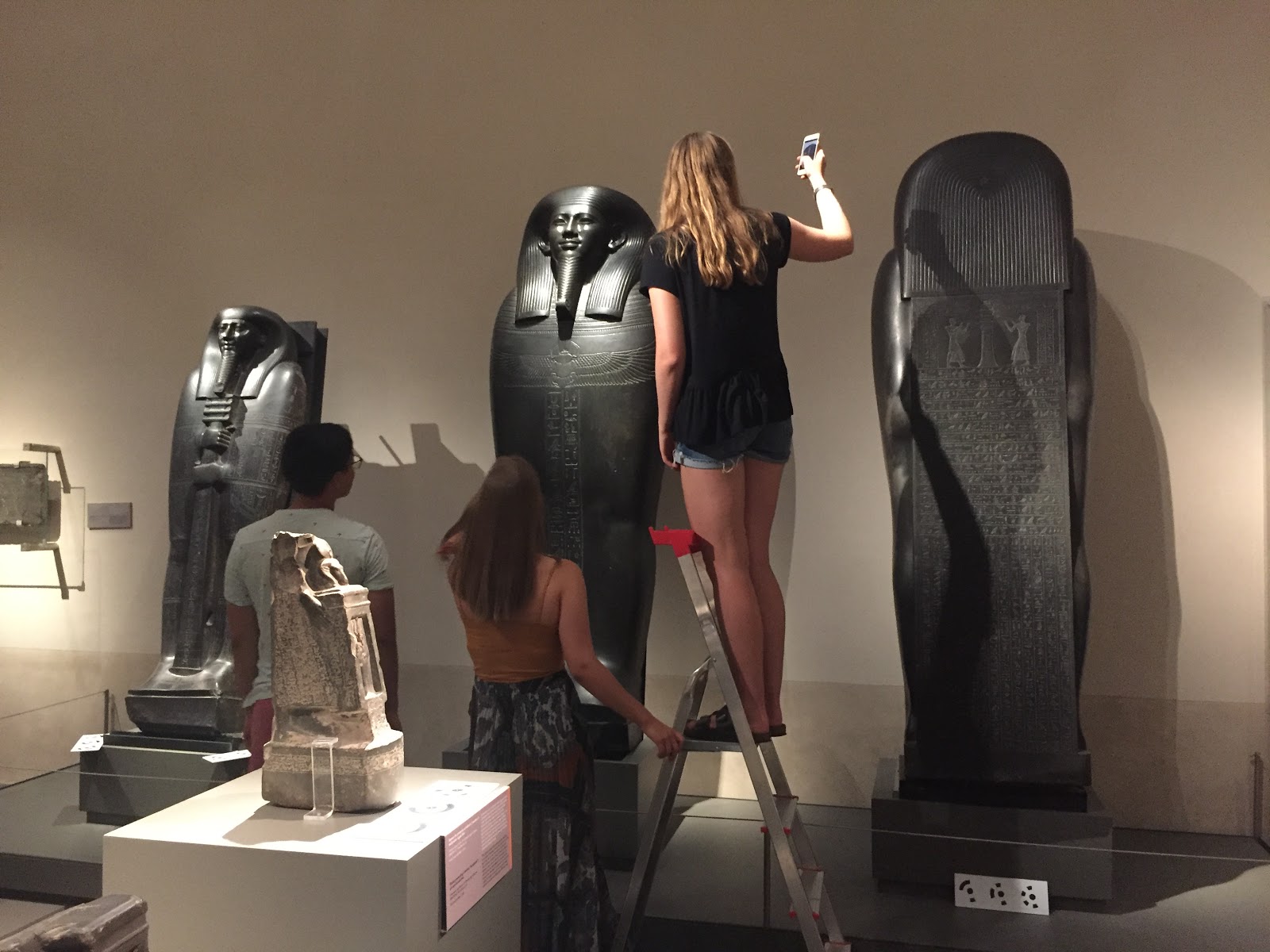 Faced with the challenging of doing photogrammetry on a tall sarcophagus near a wall in the museum
            At the end of the day, once all of the groups had presented their presentations, we found that most of us ran into these same dilemmas while taking pictures of the objects. Sometimes the 3D models would have holes missing from parts of them, or they would be morphed to take on an abnormal shape. For the most part, though, each group was successfully able to model a majority of their assigned artifacts. From the other presentations, we also learned lots about each of the other artifacts: where the sarcophagi came from, how much Egyptian blue pigment was used to paint on them, and a little bit about what the hieroglyphics said on one of the artifacts! In the end, each group produced an augmented-reality postcard of an artifact that we had 3D modeled with both visible light and VIL imaging, which was the cherry on top when it came to synthesizing nearly everything that we have learned up until this point into one single project.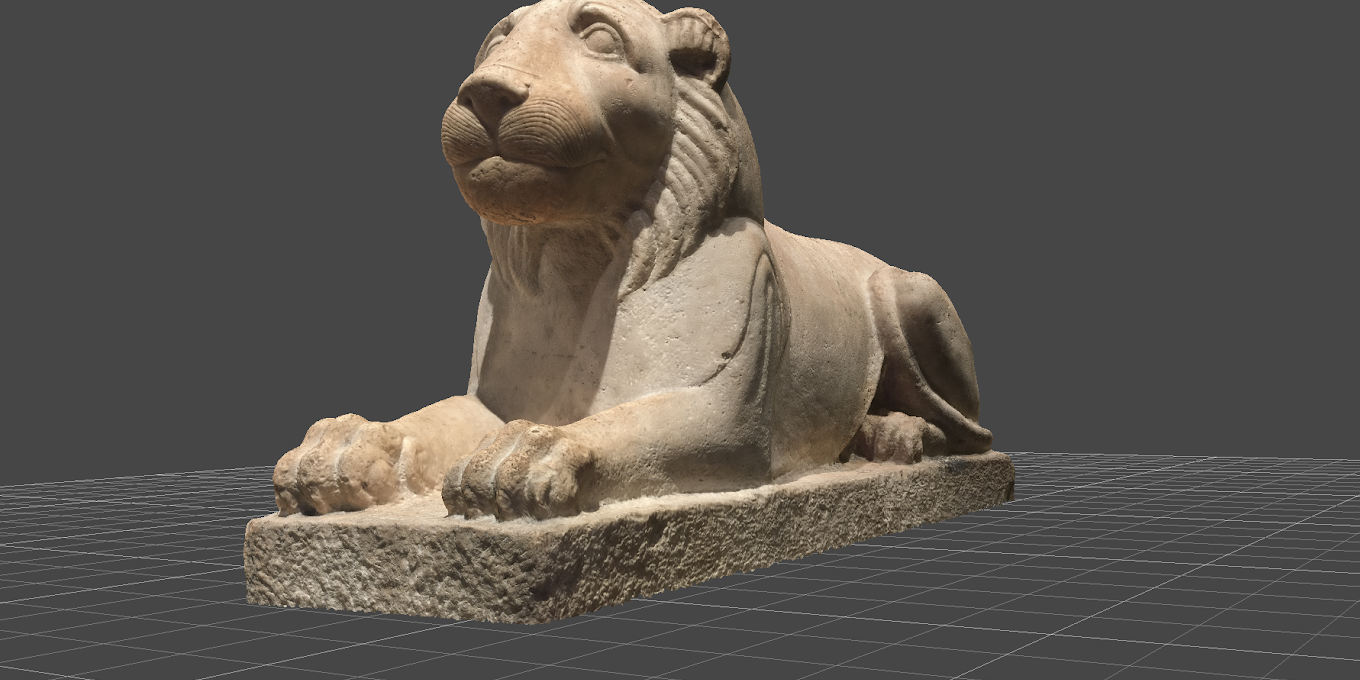 Photogrammetry in the Museo Egizio!
---