Rising Stars Workshop brings together the next generation of women leaders in CEE
Published on:
Nov 20, 2023
Nov
20
2023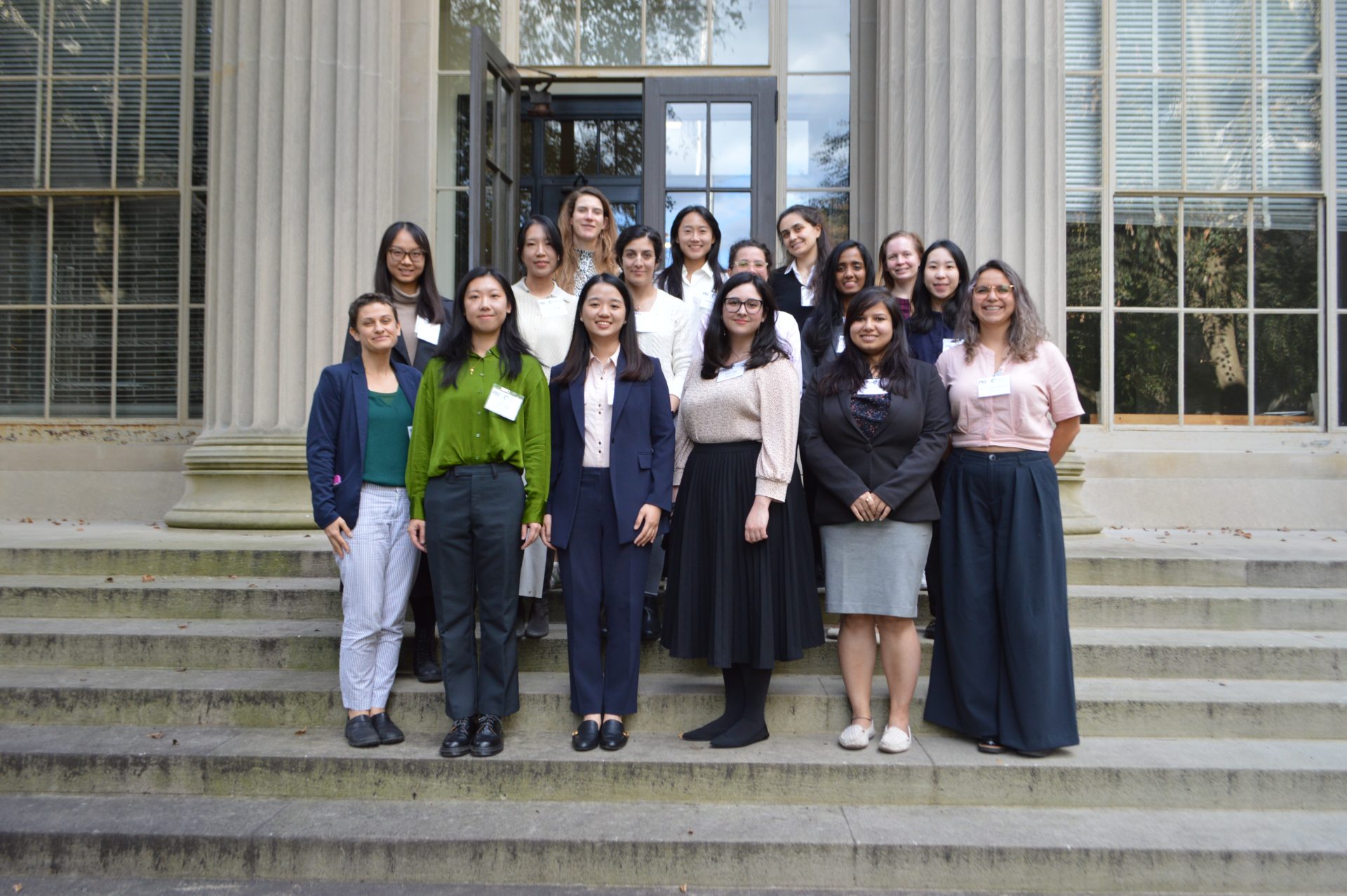 The two-day MIT workshop provides distinguished women in Civil and Environmental Engineering and related fields guidance and mentoring towards a successful academic career.
The MIT Department of Civil and Environmental Engineering's fifth Rising Stars Workshop was held on October 18-19, 2023. Among more than 100 applicants, sixteen outstanding PhD candidates and postdocs from universities across the world were selected to participate. The women chosen represent the next generation of leaders in Civil and Environmental Engineering, with research focuses ranging from climate change to resilient infrastructure and transportation. The goal of the workshop is to help prepare participants for careers in academia, while providing an academic network of peers.
Day one of the workshop began with a welcome message from the Dean of the School of Engineering, Anantha Chandrakasan, Vannevar Bush Professor of Electrical Engineering and Computer Science. In his opening remarks, Dean Chandrakasan touched on one of MIT's most urgent research priorities: climate change. "It's very clear that CEE plays an instrumental role in the Institute's priorities of climate and sustainability, and it's a very exciting time," he remarked. Earlier this year, MIT President Sally Kornbluth made climate change a top priority for the Institute, stating that climate is a professional focus of more than 20 percent of faculty at MIT.
CEE Department Head and JR East Professor, Ali Jadbabaie, spoke on the qualities that distinguish MIT's Department of Civil and Environmental Engineering from other universities. "In this department we're trying to define the future of sustainability, climate science, and engineering, but that requires a convergence of many different disciplines," he said. "Our view is that if we want humanity to succeed in the 21st century, we need to create the right equilibrium between the built and the natural environment."
Among the organizers, Tal Cohen, Associate Professor of Civil and Environmental Engineering and Mechanical Engineering, was a participant in the inaugural Rising Stars Workshop in 2015. Professor Cohen, who was granted tenure earlier this year, exemplifies the mission of the two-day workshop. She has received multiple honors since joining the department in 2016, including the 2020 NSF Career Award, and now serves as the department's Postdoctoral Affairs Officer. Assistant Professors of Civil and Environmental Engineering Josephine Carstensen and Darcy McRose co-organized the event.
Creating a sustainable future across scales
After a brief introduction from the organizing committee, the participants began their research presentations. The academic research areas spanned multiple disciplines, including environmental chemistry, atmospheric science, hydrology, food supply chains, structural engineering, and transportation systems.
In her presentation, "HealthyVibes: Human Gait Health Monitoring through Structural Vibration Sensing and Physics Informed Learning," Yiwen Dong, a PhD candidate at Stanford University, leveraged building structures to indirectly sense human footsteps and infer their health conditions through physics-informed learning. Her innovative approach is already being utilized at Nationwide Children's hospital, enabling progressive tracking of muscular dystrophy in children.

Dr. Muriel Brückner, a postdoctoral researcher at University of Texas at Austin, shared her research studying the feedbacks between living organisms and their physical environment to understand species patterns and the role of organisms in shaping coastal and fluvial geomorphology.
Joana Sipe, a postdoctoral associate at Duke University, discussed her research on models of microplastic breakdown and plastic additive release in her talk titled, "Breaking Down the Plastic Problem: Can we predict how Microplastics are Fragmented and Released?"
Reluctant leaders and navigating ahead
In her presentation, MIT Provost Cynthia Barnhart referenced a study by Professor Deborah Ancona, which found that many members of the MIT community can be described as "reluctant leaders." This term describes people who may be hesitant to take on leadership roles but are able to rise to the occasion when presented with a challenge. Provost Barnhart used this term to describe herself, and while reflecting on her own career, urged workshop participants to focus on doing what they love rather than being granted tenure. She also touched on balancing the demands of a career in academia with raising a family, suggesting being intentional about scheduling how time is spent outside of work.
The first panel, featuring professors Benedetto Marelli, Josephine Carstensen, Colette Heald, and Heidi Nepf, gave participants an opportunity to raise questions regarding the job search and interview process. Questions included how to know if an institution is the right fit, what hiring committees look for in candidates, and how to summarize your research to people outside of your field.
Day two began with a panel focused on the first few years of a faculty career, featuring professors Tal Cohen, Darcy McRose, Tami Lieberman, and Dave Des Marais. The panelists shared experiences from the beginning of their careers and offered advice on mentoring, promotions, and tenure.
The final panel, including professors Tal Cohen, Desirée Plata, César Terrer, and Josephine Carstensen, discussed work-life balance. Panelists fielded questions about scheduling time with family, supporting a spouse's career, how to recharge outside of work, and strategies for prioritizing responsibilities as a junior faculty member.
The panel opened with a question about how to know if an institution provides a healthy work-life balance. Cohen advised participants that while they may be pulled in many different directions, they are ultimately responsible for managing their own work-life balance. Terrer echoed Cohen's thoughts saying, "one of the best things about academia is that you are fully independent. It's the best job in the world because you have that freedom, and you are in charge of your own time."
Plata offered guidance on how to not compare one's career trajectory to the success of peers, advising participants to avoid using social media and take time to appreciate accomplishments, even ones that may seem small.
As the workshop concluded, the cohort expressed gratitude towards the faculty for sharing their early career experiences and acknowledged the new connections and support system they built with fellow participants.
Muriel Brückner shared her appreciation on X writing, "So glad that I had the opportunity to be a part of this year's MIT CEE Rising Stars Workshop! I met an amazing cohort of women, learned so much about being a faculty member, and had the opportunity to see the campus and labs. Truly an amazing experience!"
---