ONE-MA3: American Academy in Rome and The Vatican
Published on:
Jun 28, 2019
Jun
28
2019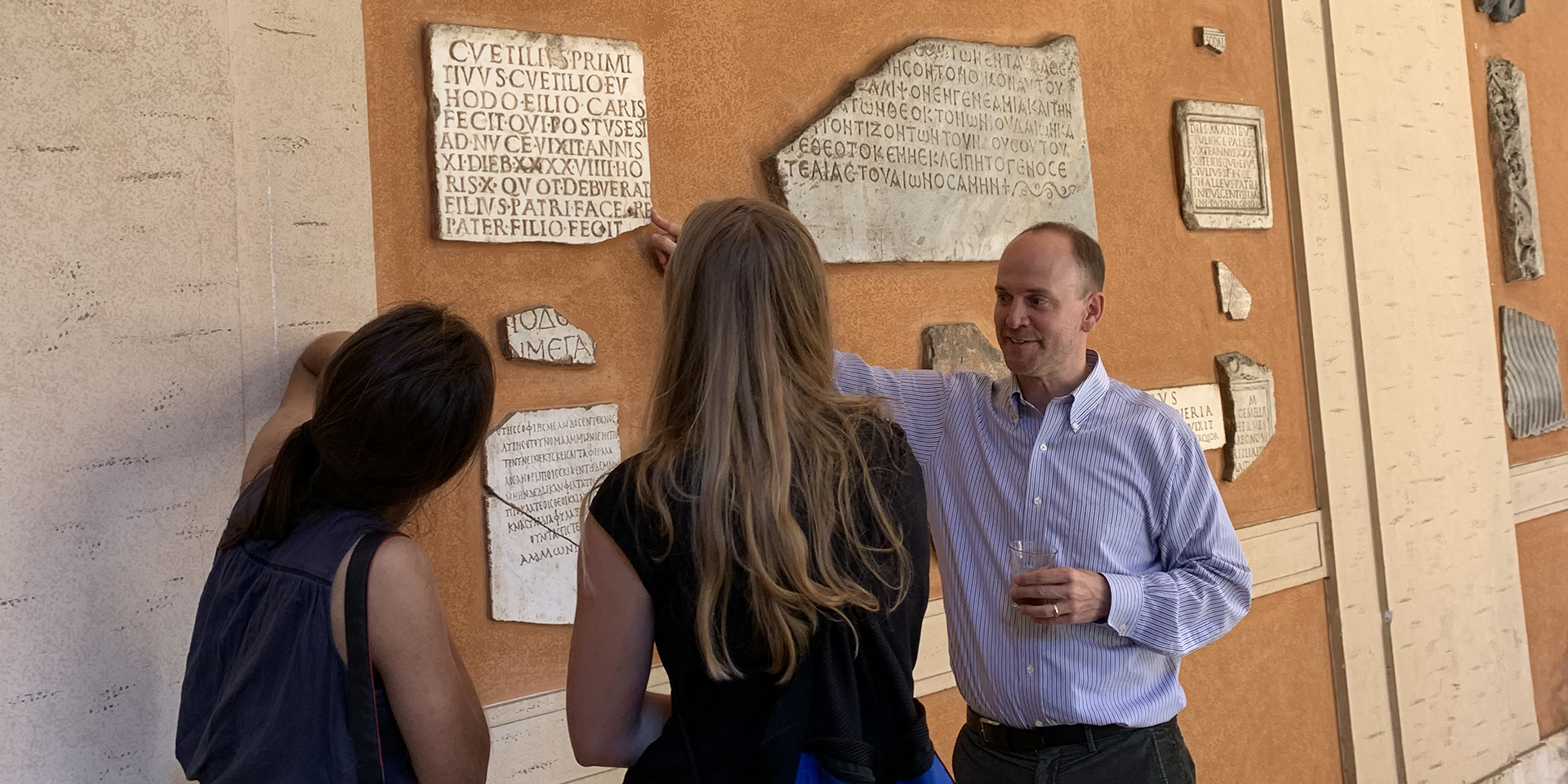 By Naomi Lutz '22
After spending four days in the castle, we got out and visited Rome today! Our first stop was the American Academy in Rome. MIT Professor John Ochsendorf, who is also the Director at the American Academy, met us outside and gave us a tour of the Academy, explaining the programs and academics that exist there. We then had a coffee break in the courtyard and followed John upstairs. Climbing down a ladder, we got to actually go inside of an aqueduct that was found when the Academy was built. After taking many pictures and videos to record this exciting event, we joined John back in the classroom.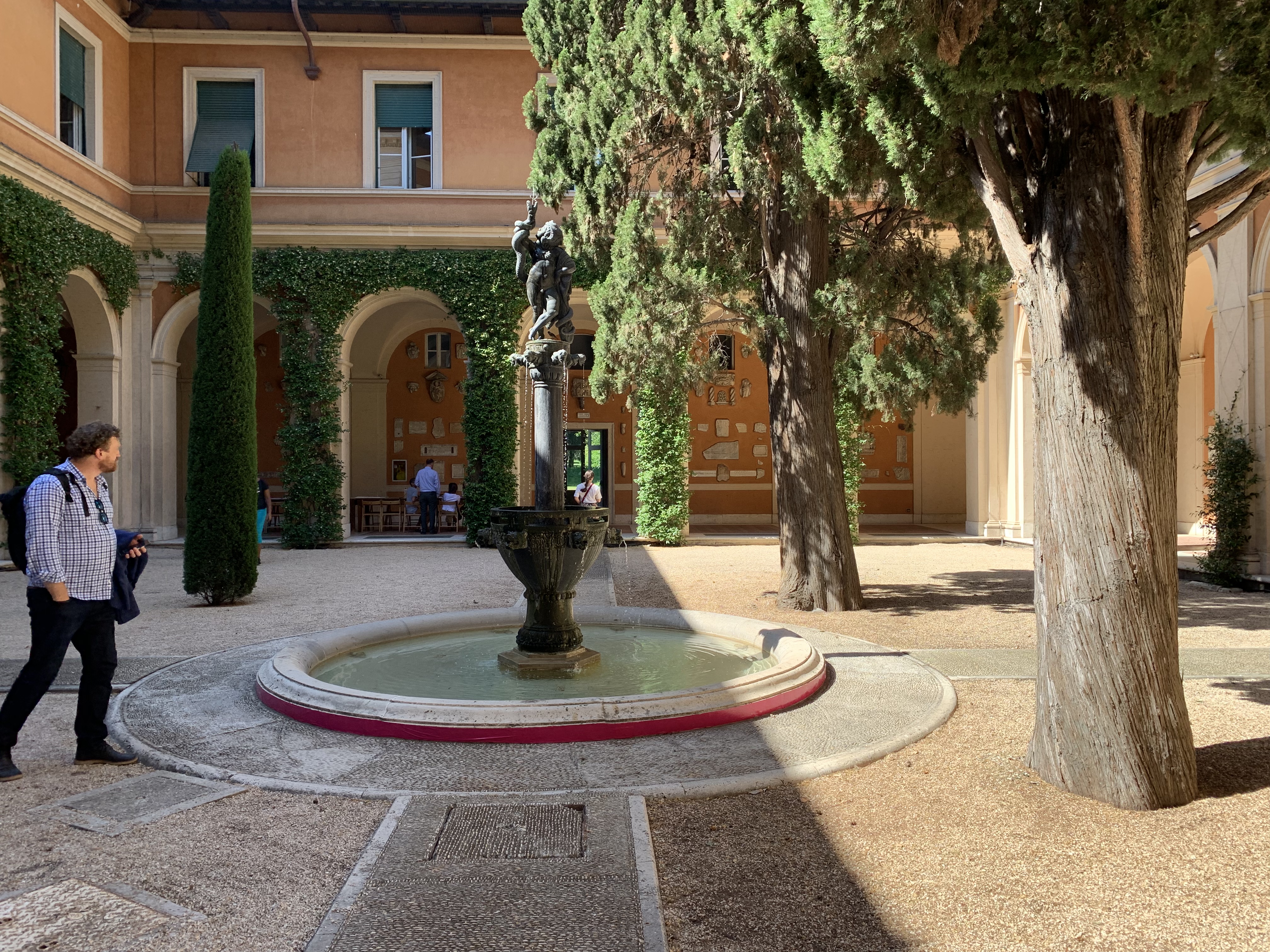 The courtyard of the Academy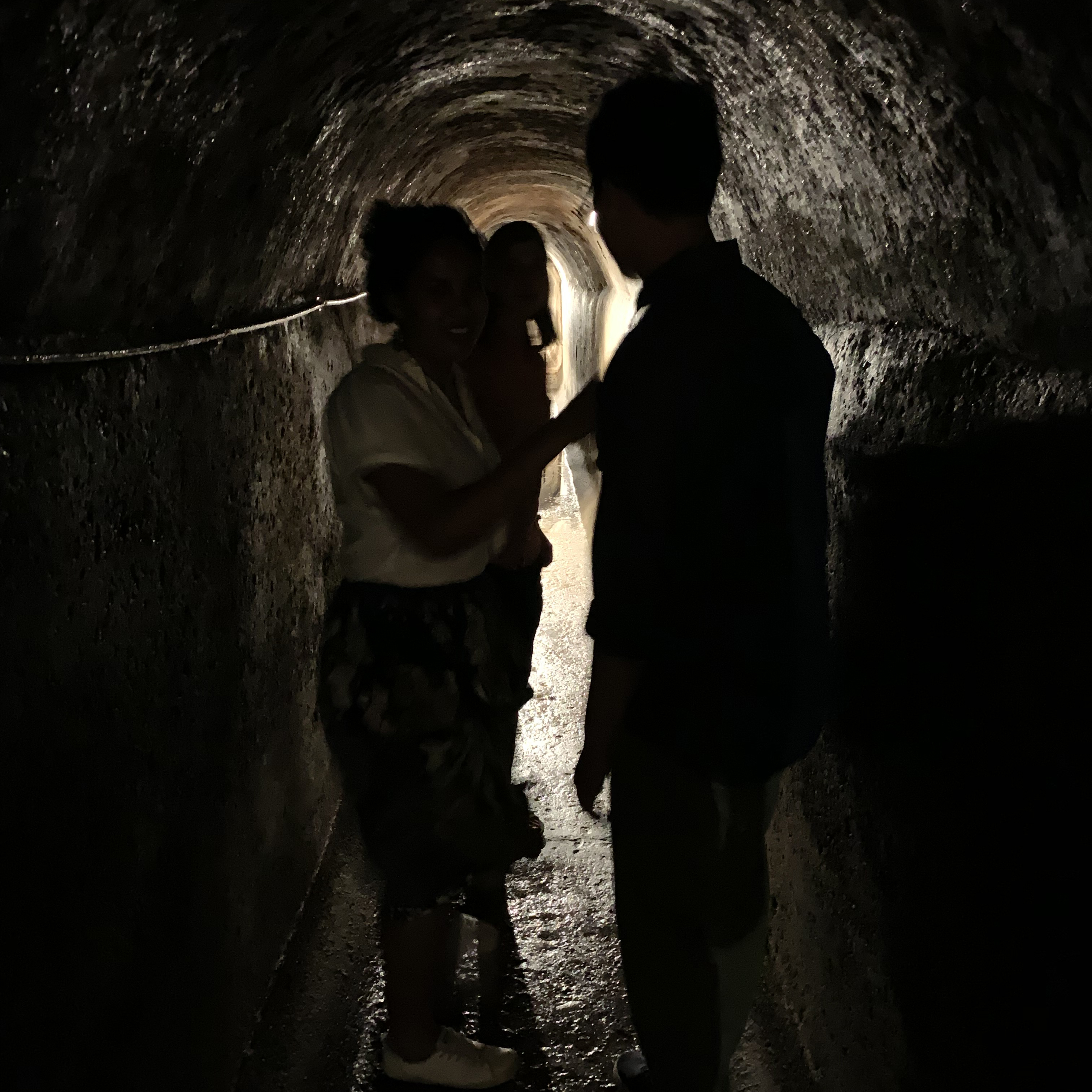 In the aqueduct underneath the classroom
            Professor Ochsendorf gave us a very engaging lecture about his research and other buildings, focusing on arches and structures.  He taught us about using Hooke's law to evaluate whether arches will stand and later in the lecture went through a few examples that failed to follow this law and thus collapsed. We then learned about the Guastavino father and son, who built over 600 buildings in the U.S. and Canada that used a network of forces and compressions to stand. John explained how some renovations or restorations, such as replacing the Basilica of Assisi's wooden roof with a steel roof, can lead to instability and the collapse of buildings following earthquakes. We learned about the amazing Pantheon and the 3D model developed by MIT undergraduates years ago to measure its stability. We're even more excited to go see the Pantheon for ourselves on our free day in Rome on Sunday now! Professor Ochsendorf told us about a national park visitor's center in South Africa, the Red Line in Rwanda, and the Sean Collier monument in Cambridge that he worked on, outlining the process of designing and building these structures and evaluating their resilience and sustainability. The visitor's center he helped build emitted 60 kg carbon dioxide per square meter, in comparison to the Beijing Olympic stadium the Bird's Nest emitted 1300 kg per square meter. One reason for this difference is that the Bird's Nest used a lot of Metakoalin, which must be heated to around 700 degrees as we learned this past weekend. He also explained how other materials such as concrete and steel also emit a lot of carbon dioxide. Ninety minutes flew by before we knew it!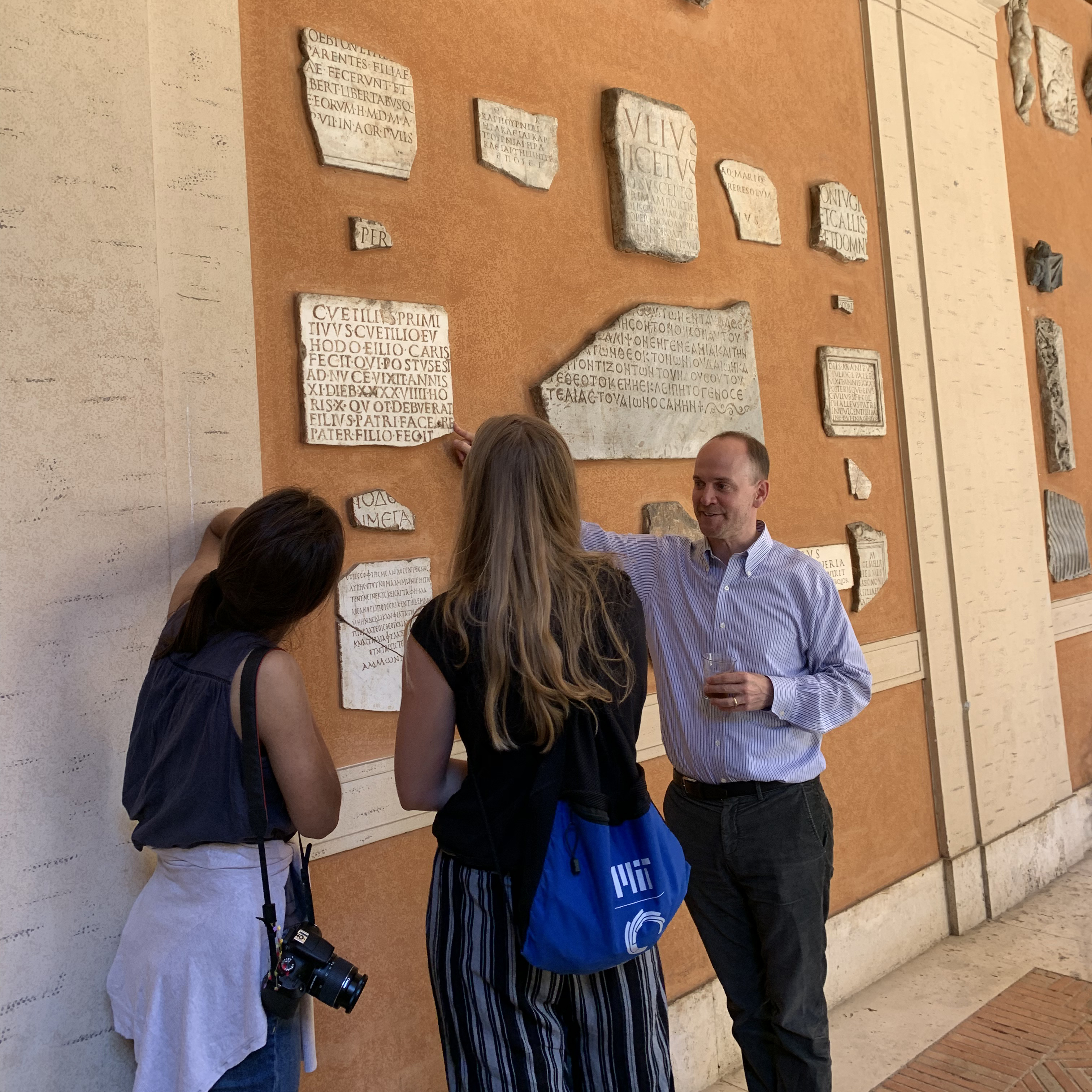 Professor Ochsendorf explaining the meaning of an ancient monument written in Latin
            Following the lecture, we went to the library and were shown several ancient books. They even had a version of Vitruvius out, much to Admir's excitement. A variety of other books were displayed, varying in size, age, language, and content. I had never seen books so big—some of the pages were at least 6 times as big as a normal sheet of paper. There were also some small books, including one which had unfinished drawings and passages. We were sad to leave the library with so many cool books left untouched and unexplored; however, we then got to join the members of the Academy for lunch. We were all very happy to eat a healthy, sustainable lunch with many vegetables. We sat next to and talked to historians, artists, and archaeologists. After eating a delicious lunch while speaking to some incredible people, it was time to leave the Academy and go to the Vatican!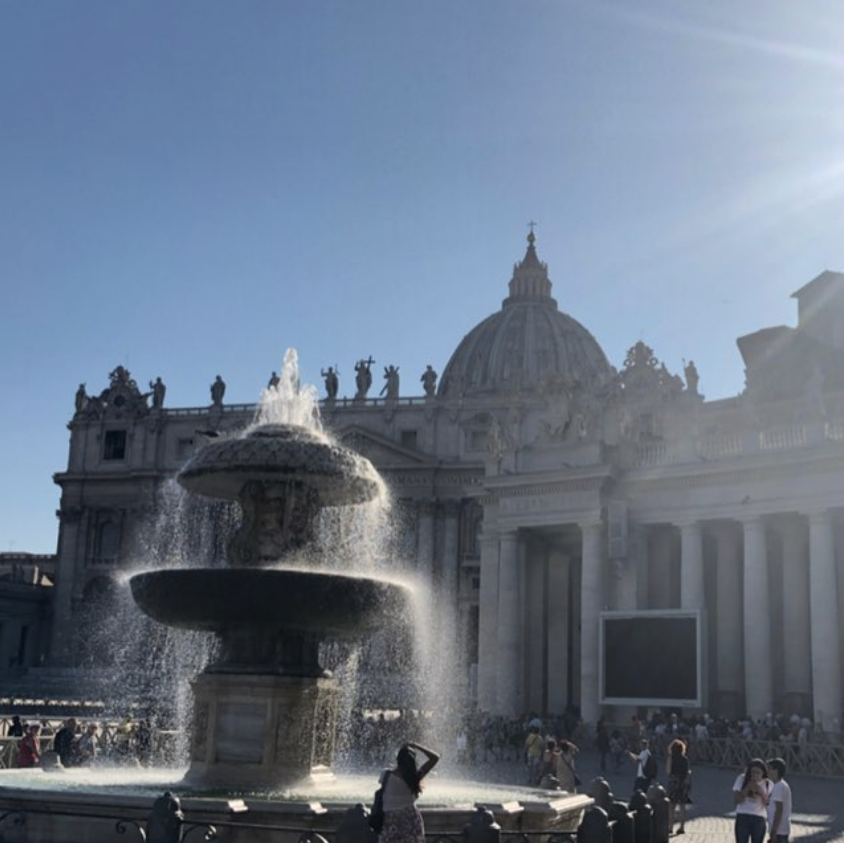 The fountain outside of the Vatican 
---