ONE-MA3: A Morning at the American Academy in Rome
Published on:
Jun 26, 2019
Jun
26
2019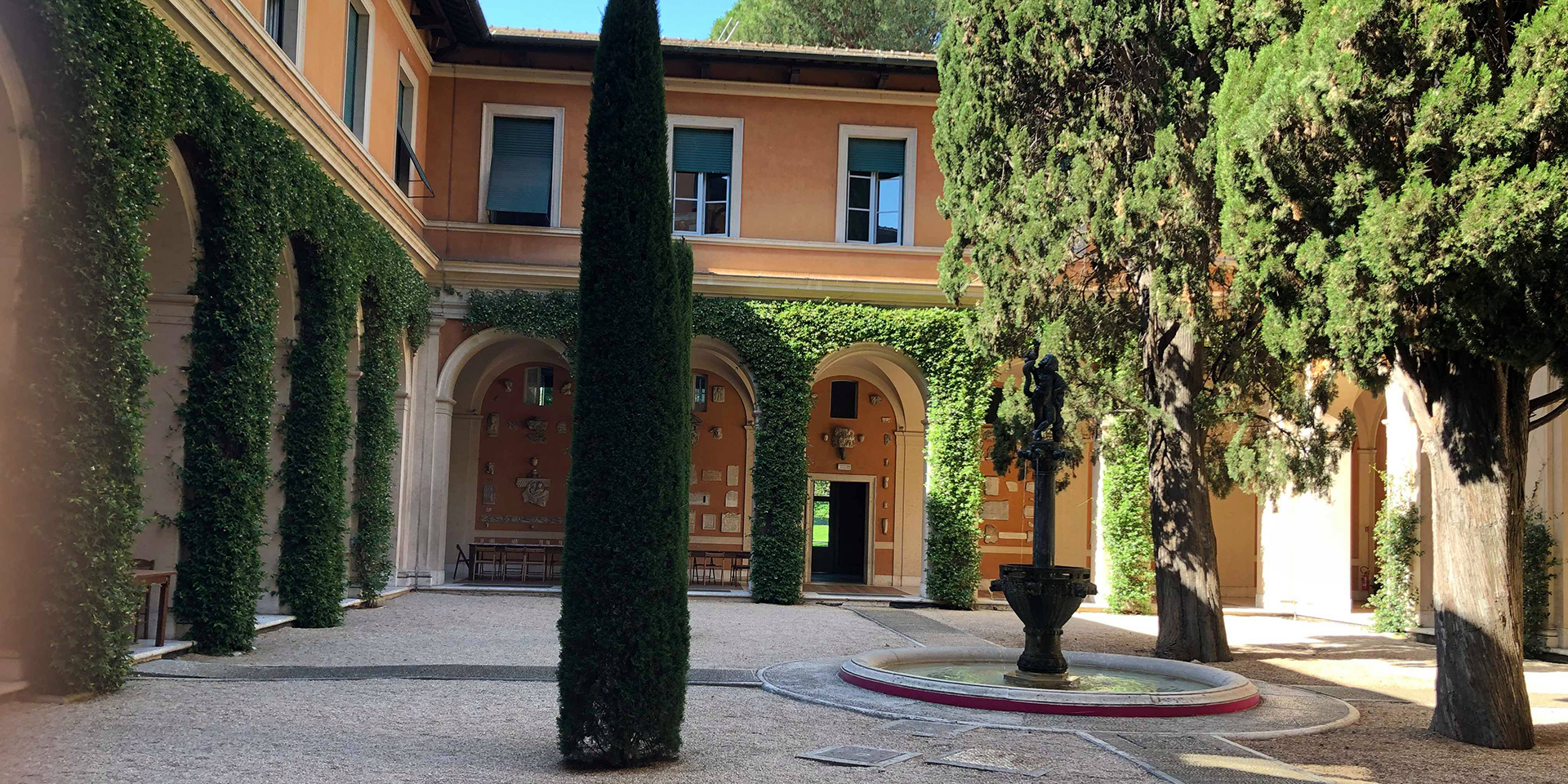 By Meriah Gannon '22
Today during ONE-MA3, we had the opportunity to visit the American Academy in Rome. This research institution is home to one hundred scholars and artists who have won the coveted Rome Prize. This prize provides them with a chance to live and study at the beautiful academy, while surrounded by the rich history and great inspiration of Rome. We are a week into our trip, and we have learned about Roman architecture and the techniques they used to craft intricate mosaics and frescos. Knowing this, I could see why working in a place like the academy has inspired over one hundred years of people.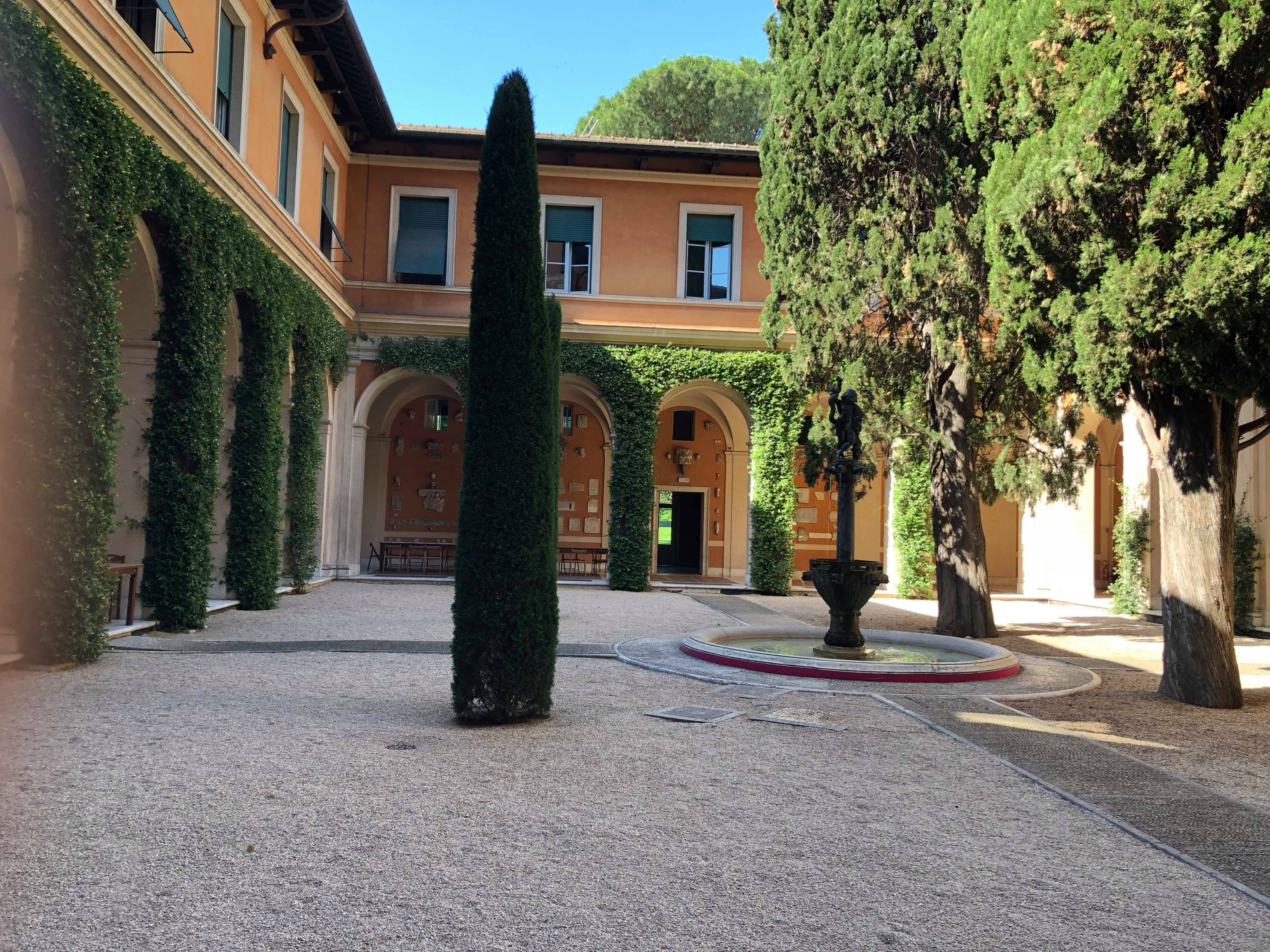 The Courtyard of the American Academy in Rome 
We were given a tour of the academy by the director John Ochsendorf, a MIT professor. The walls of the academy courtyard were lined with a collection of ancient Roman engravings for people to practice Latin translations, and right below this courtyard was the entrance to a Roman aqueduct. We even had the opportunity to climb down and go into the aqueduct! Touching the walls of an aqueduct which had once supplied water to the great city of Rome was incredible; it seemed like every aspect of this academy was designed to inspire.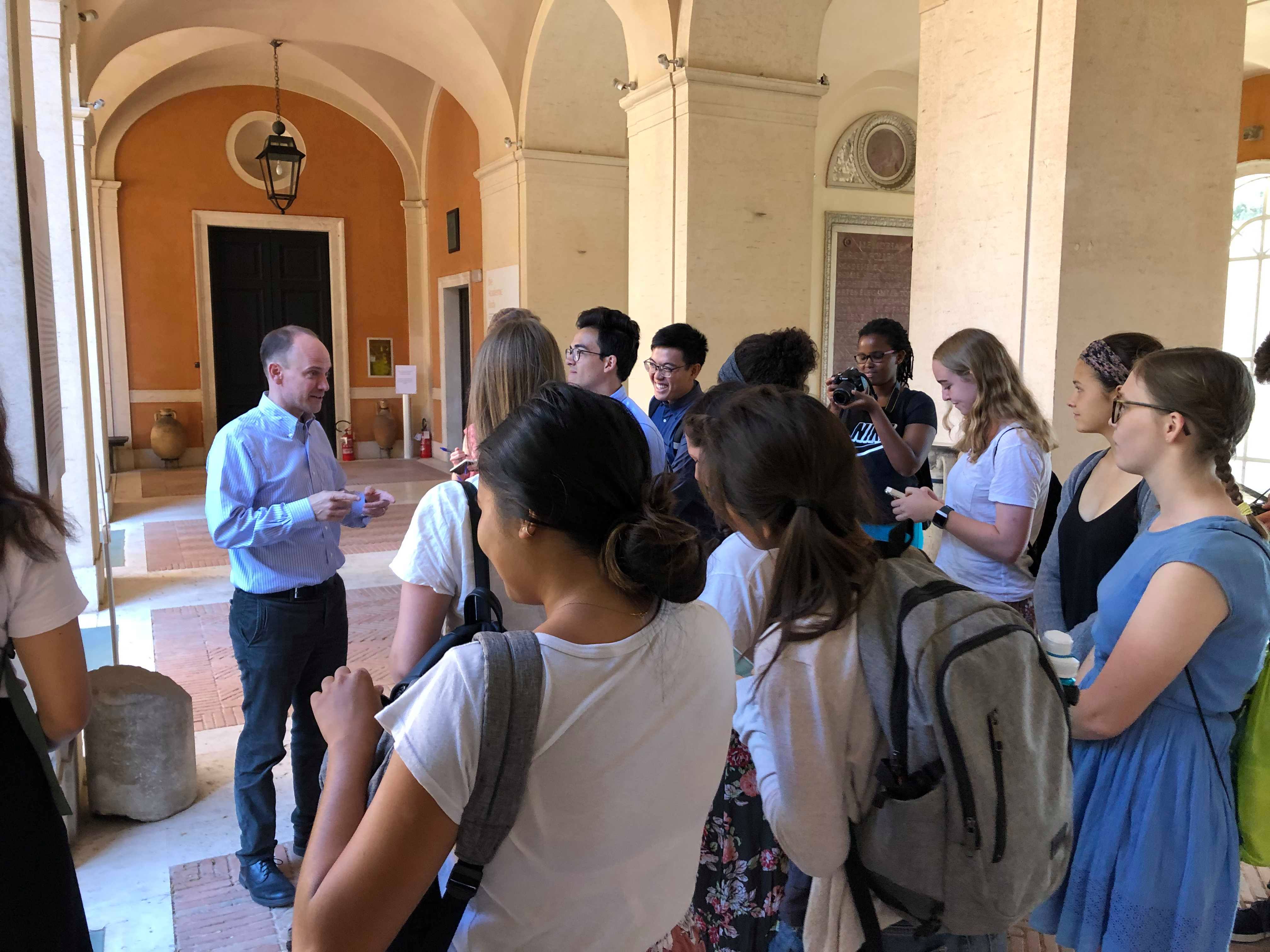 Getting a tour of the American Academy in Rome 
After this, Professor Ochsendorf told us about some of his work regarding vaulted ceilings. His work has helped show how massive dome structures, such as the pantheon, can remain stable for centuries, even with cracks as wide as seven inches. In addition to this, when done correctly domed ceilings can be constructed using thin and brittle bricks. These domes can be as thin as four inches and sustain huge amounts of load. I was struck when he told us how a father and son who immigrated from Spain, despite only having a second-grade education, had utilized this construction method to build structures such as the first underground subway station in New York.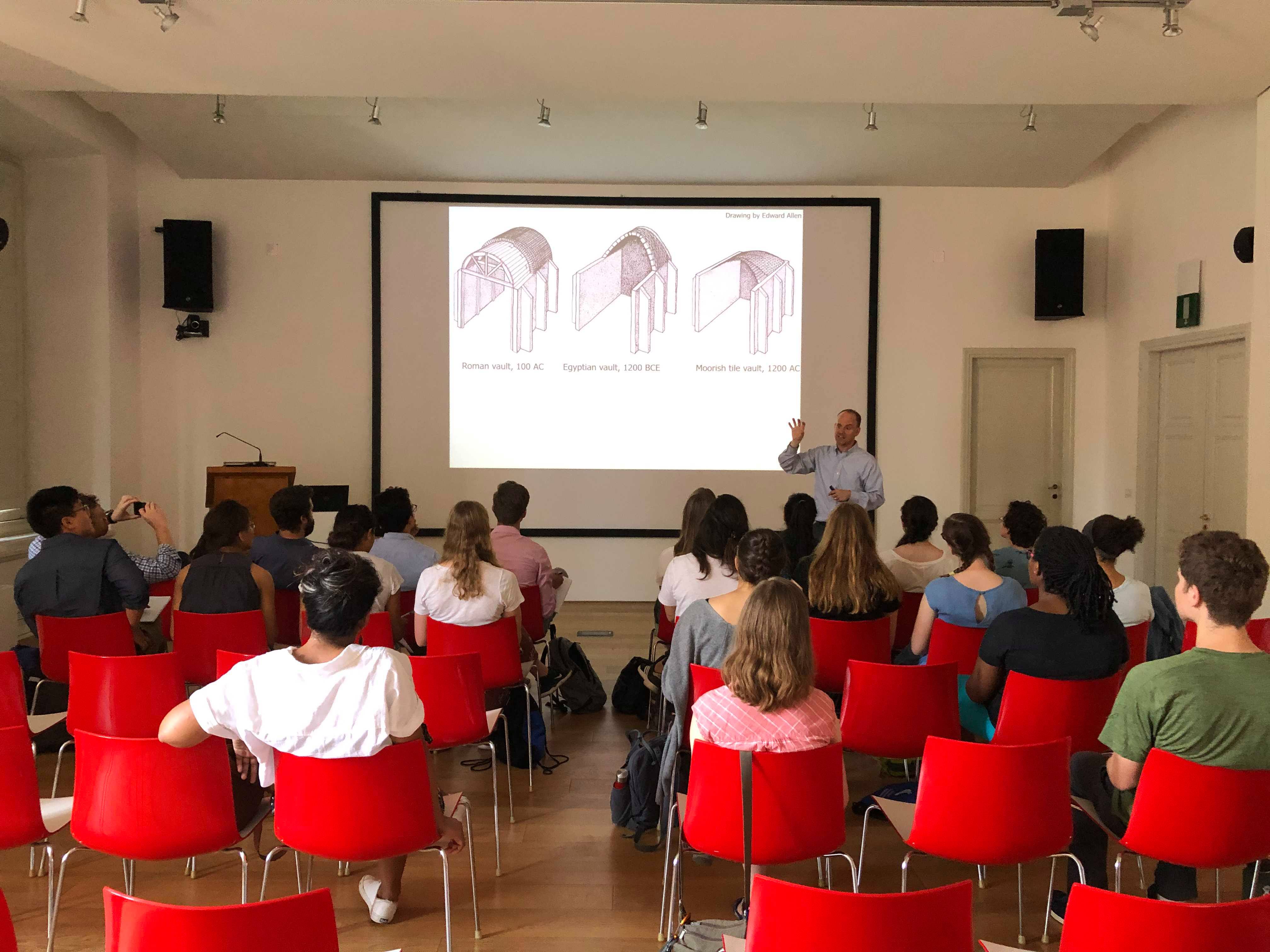 Professor John Ochsendorf presenting on vaulted ceilings 
Following Professor Ochsendorf's great lecture, we were taken to the Rare Books Room of the academy's library. Here we were able to look through the first living translation of Vitruvius' Ten Books on Architecture, a book which in many ways helped inspire this trip. We finished our visit with lunch prepared at the academy, and after a week of a steady pasta diet, I was excited to hear our meal consisted of delicious vegetarian salads. Many of the vegetables had been grown in the academy's garden and all of the ingredients were organic and locally sourced. While eating this delicious meal, we got to speak with many scholars from the academy and learn a bit about the work they do. I was sad to leave, but although I may not be a lucky Rome Prize winner, I too feel inspired by the American Academy of Rome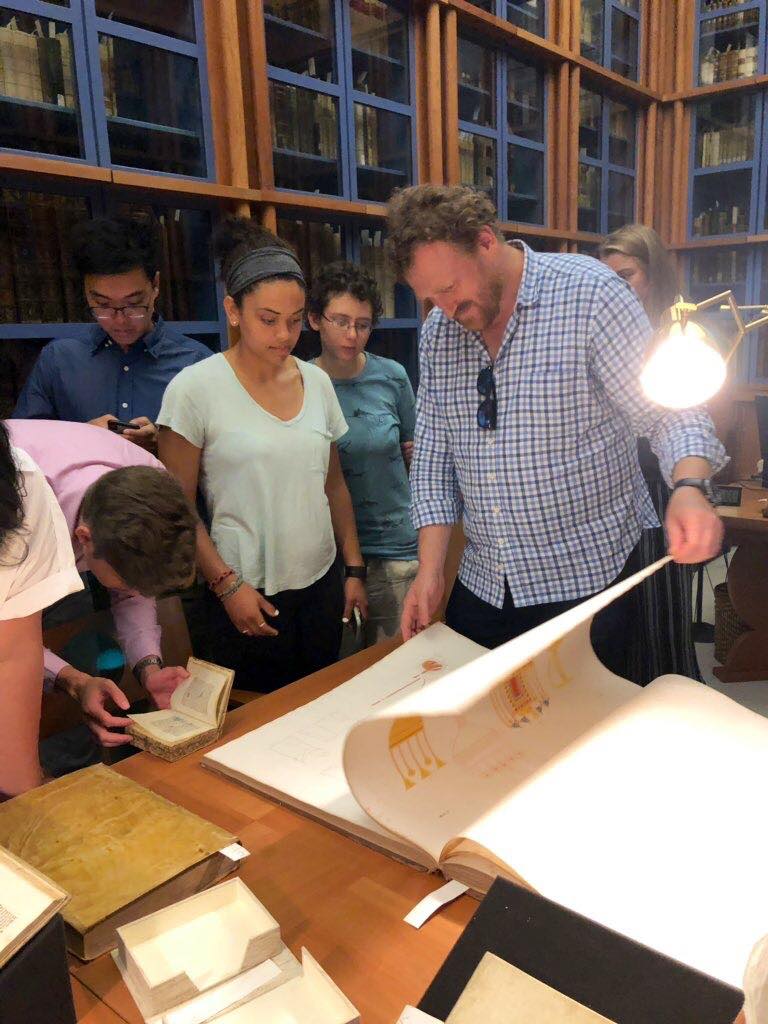 Flipping through Centuries-old books!
---