ONE-MA3: Day X: When in Rome…Our Minds Are Blown!
Published on:
Jun 26, 2019
Jun
26
2019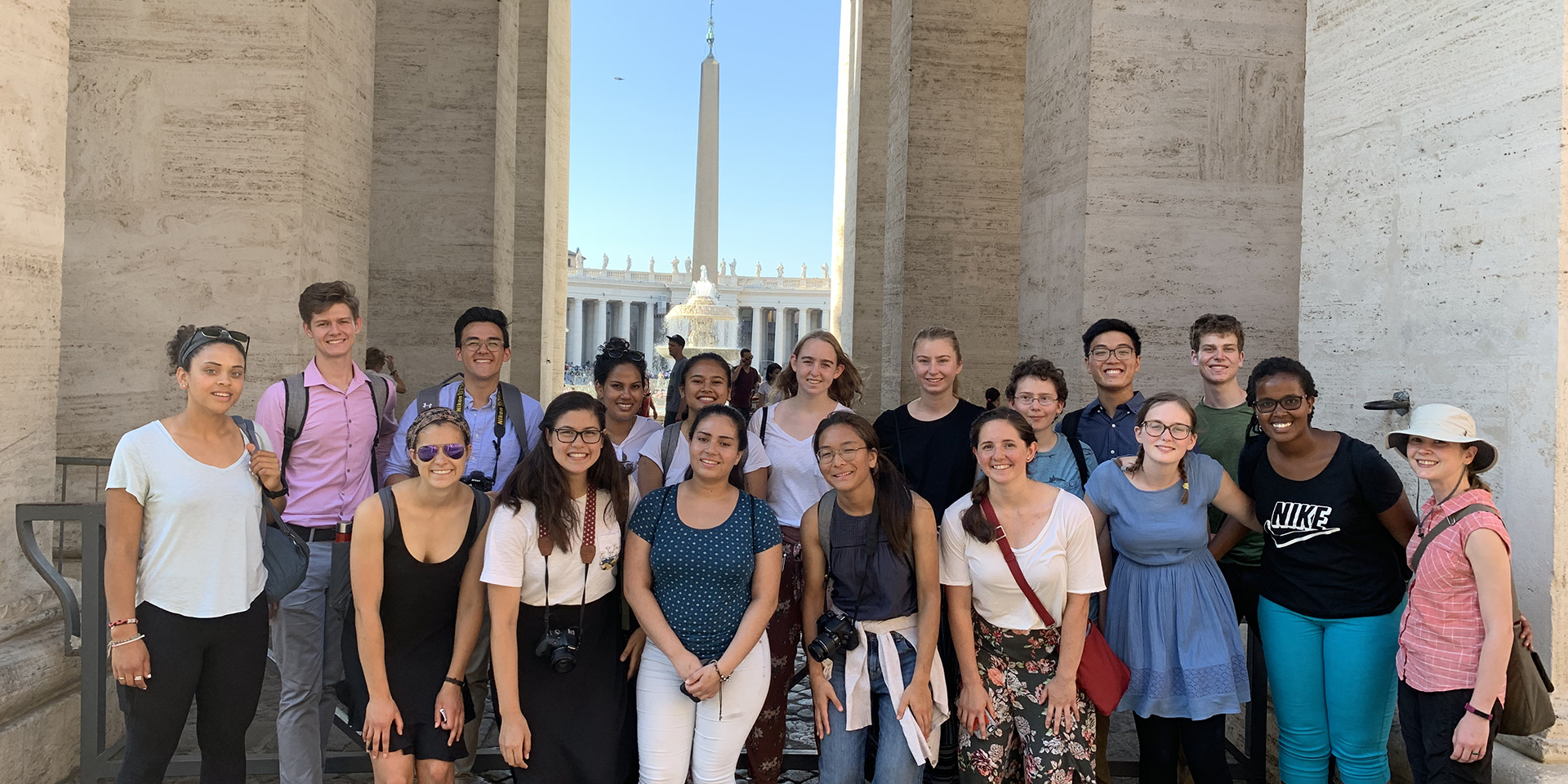 By Sophia Mittman '22
If I gave a thorough synopsis of Day X, I don't think this blog post would have an end, so I'll do my best to summarize everything as concisely as I can! First, we had the amazing opportunity to visit the American Academy in Rome (basically the MIT of archeology, visual arts, and the humanities), a stay that was guided by the director of the academy John Ochsendorf (who is also an MIT professor in Civil Engineering and Architecture!). After an underground trek into an aqueduct that runs below the academy, Professor Ochsendorf gave an inspiring lecture on his projects as an archeological engineer, which included an array of incredible vault and dome designs, a dissection the design of the Pantheon, and specifically Guastavino architecture (stable structures created from single layers of thin, fragile bricks and fast setting mortar which creates stable forms because of specific geometric shapes and patterns). Many of us could not contain our excitement afterward as we chattered to one another about possible projects we could pursue with Course 1 in the near future based on what Professor Ochsendorf had just told us.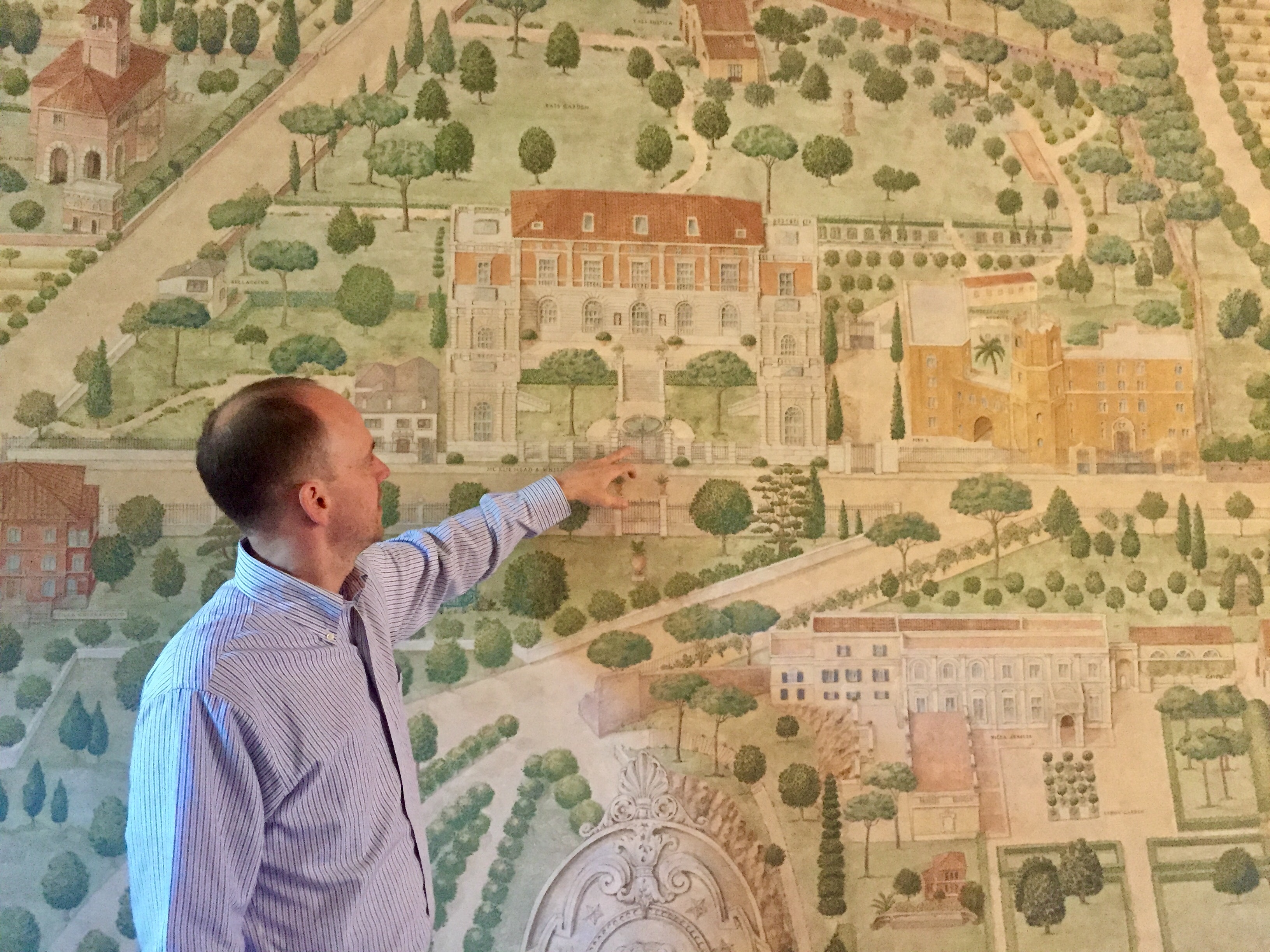 John Ochsendorf giving us a tour of the American Academy in Rome
Around the same time, we not only got to see the exact building that Galileo Galilei demonstrated and named his new telescope in, but we also had the opportunity to visit the academy's library to handle and flip through century-old books, including an unfinished illuminated manuscript, the first Italian translation of Professor Masic's favorite book: Vetruvius's Ten Books on Architecture, a large book on anatomy (the pages were huge), and a small book on Galileo's observations concerning space. Additionally, we sat and mingled among historian, engineer, and artist fellows from around the world as we ate a low-carb, fresh and green lunch on the edge of the academy courtyard.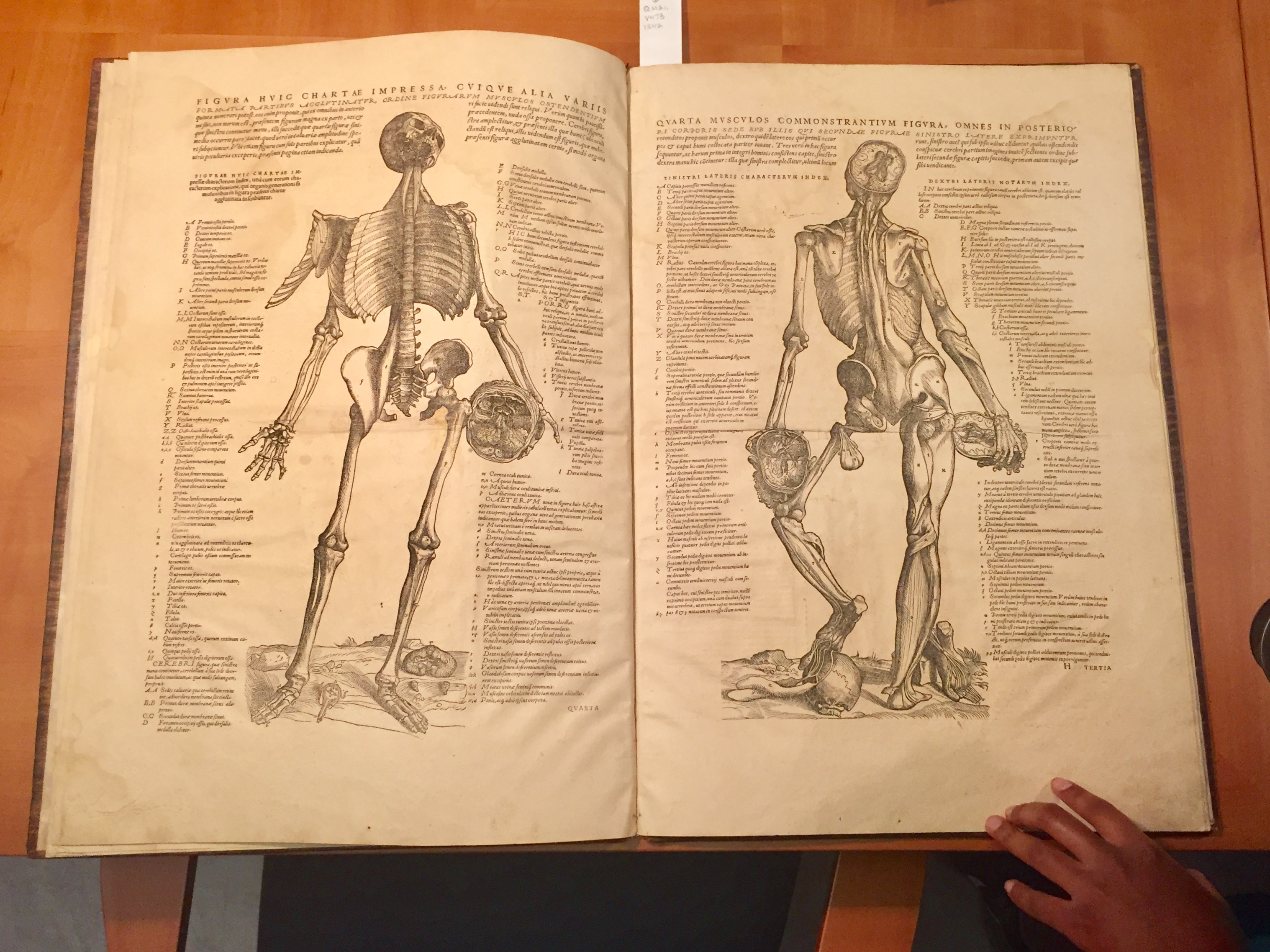 Centuries-old anatomy book from the academy's library collection
            In the afternoon, we made the much-anticipated trip to Vatican City, where we by-passed the main lines to enter into the Vatican Museums. After a lecture on marble art restoration processes, we were given a tour of the actual marble restoration lab of the Vatican Museum itself. We witnessed halves of entire statues whose other half was crafted with rough sketches of some kind of mud or clay. One of the interns there also described another smaller statue, which was not being restored for a public museum, but rather for the Pope's personal apartment! Directly after, we bee-lined it to the Sistine Chapel, passing under seemingly endless vaulted hallways that were completely covered from floor to ceiling with tapestries, frescoes, statues, and marble. When we first walked into the Sistine Chapel, I had the exact (and I mean EXACT) same reaction as when I found out I got into MIT: hand over mouth, eyes tearing up, and a little bit of a crying/laughing hyperventilation before calming down and completely taking everything in. I simply cannot describe the magnificence and magic of Michaelangelo's work in words. I can only encourage you (HIGHLY) to learn all about the Sistine Chapel and Michaelangelo's commission first, and then to go see it for yourself.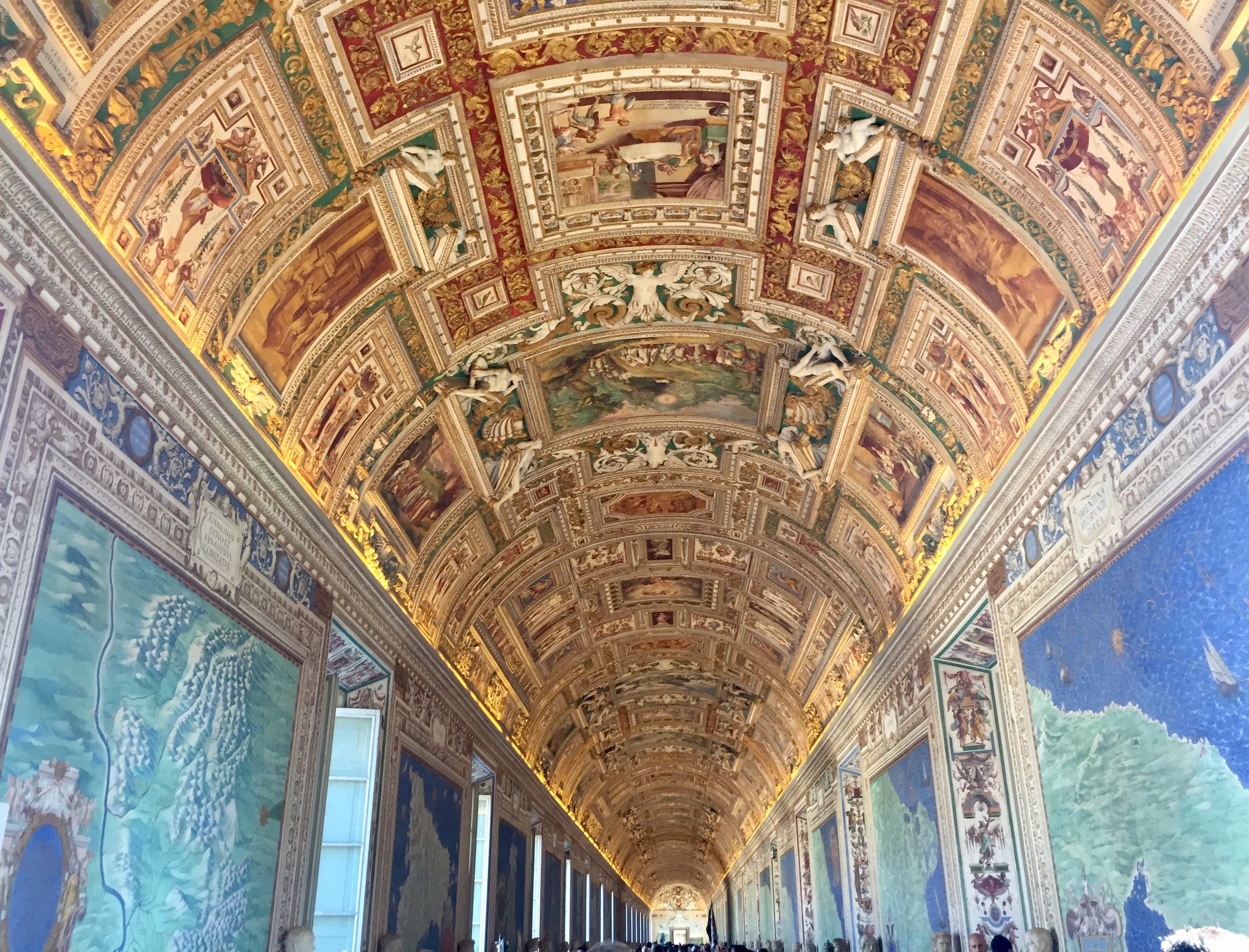 Vaulted hallway en route to Sistine Chapel
            Finally, as the day came to an end, we didn't have time to spare to enter into St. Peter's Basilica, but, we were able to explore Bernini's plaza out front. That's where we were astounded to discover that Professor Masic was one of the art restorers (along with Roberto, who has been helping and teaching us on this program for the past week!) who worked on restoring Bernini's majestic columns and statues of the plaza in front of St. Peter's in the past ten years. In other words, we cannot describe how thankful we are to be in the hands of giants when it comes to learning from the masters of archeology, art restoration, and engineering on this trip.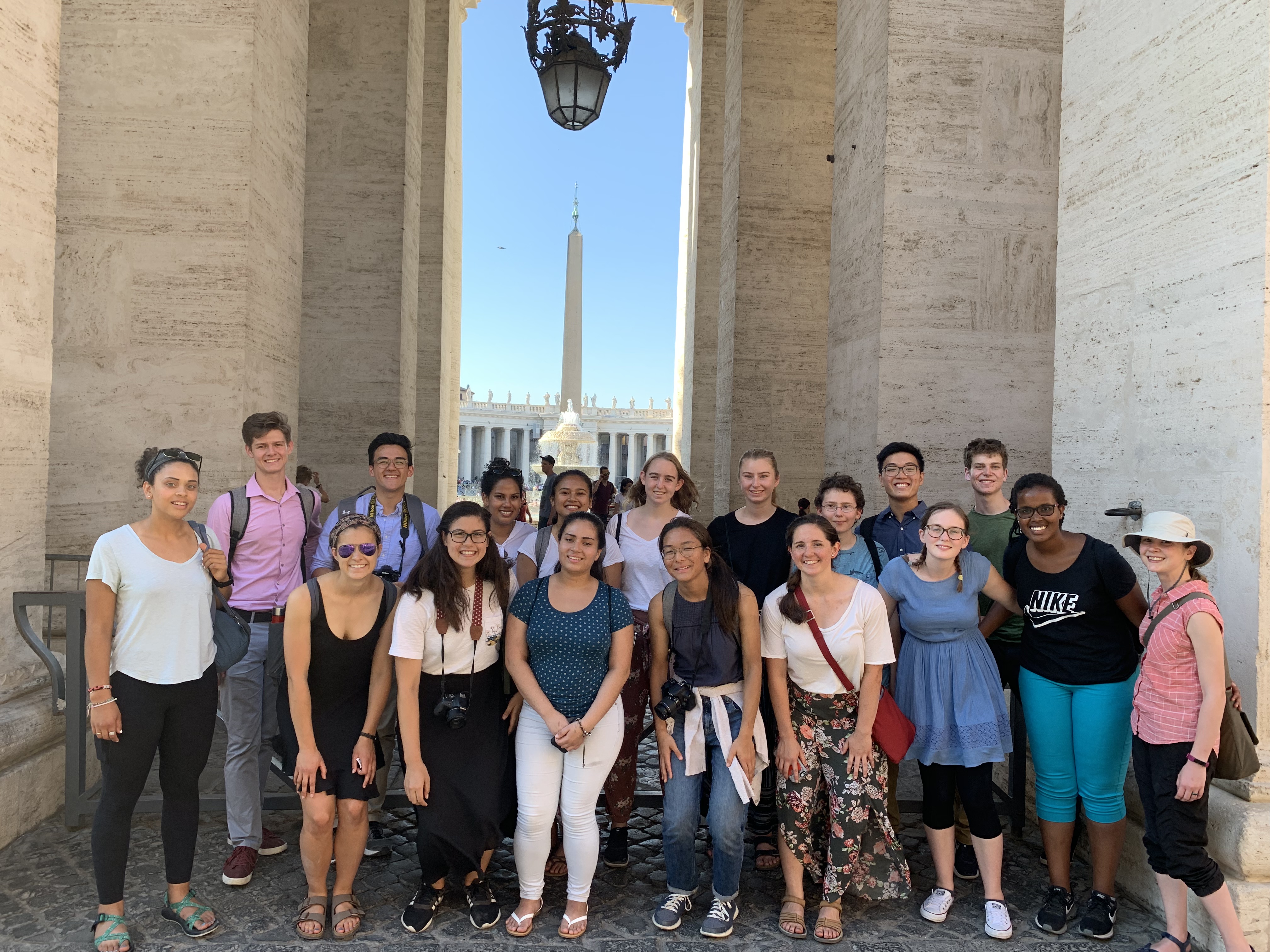 Group Photo in front of St. Peter's Basilica!
---