ONE-MA3: Learning to Appreciate Roman Engineering and Craftsmanship
Published on:
Jun 23, 2019
Jun
23
2019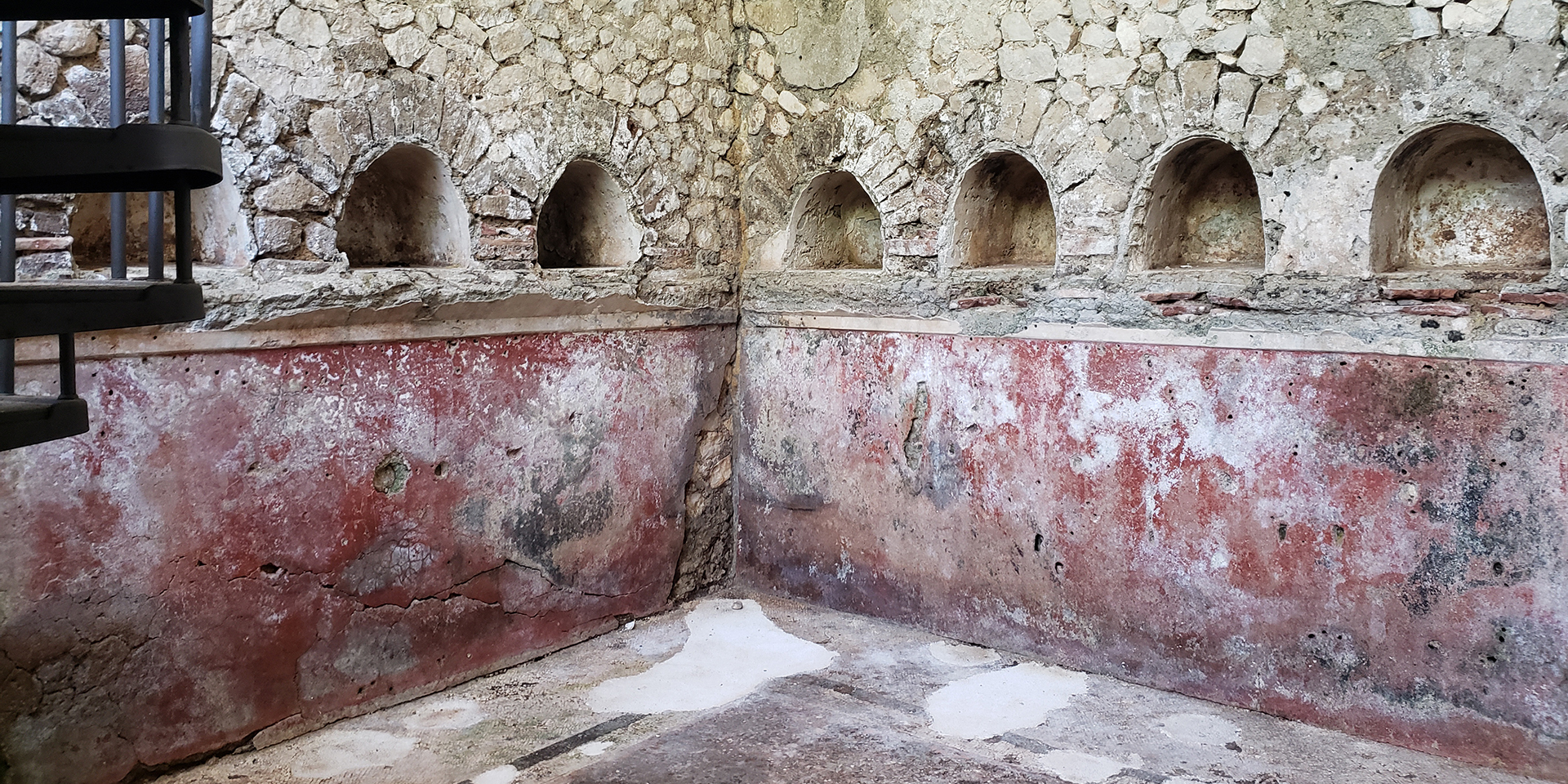 By Marcin Hajduczek '22
No longer jetlagged and sporting new tans from the Italian sun, we set out to Torre Paola today for our first hands-on fieldwork of the ONE-MA3trip. After a short trip to the coasts of Sabaudia, conservator-restorer Roberto Scalesse led us underground to a recently discovered Roman bathhouse. Although newly constructed arched ceilings protected the excavated site aboveground, everything that had been covered by soil offered glimpses of what it must have looked like over two thousand years ago.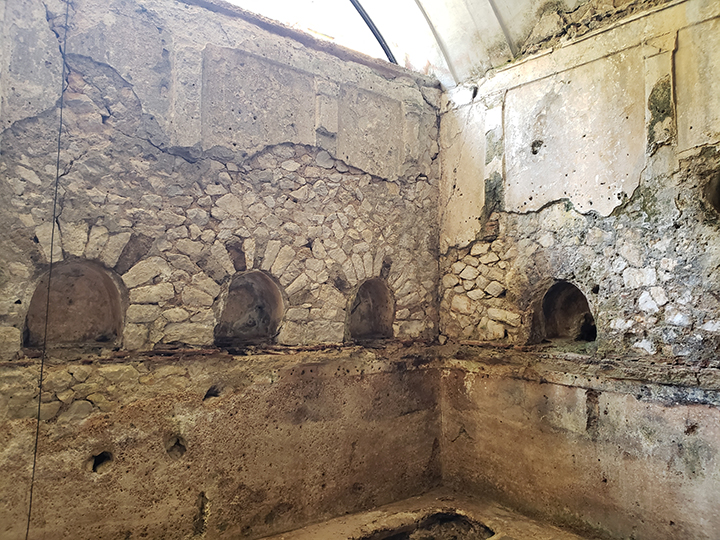 Ancient Roman bathhouse 
With the consolidation of Rome as an empire in 27 BC, Roman emperors had increasingly available access to treasury resources to fund extravagant projects. While some, like Nero, built ridiculously excessive palaces for themselves, others tried to outcompete one another through the construction of public works that could render them a 'good emperor' in the eyes of the people and Senate; often times this was a stepping stone for an emperor's posthumous deification. This led to the construction of amphitheaters, forums, and lavish public baths; with soaring columns and walls clad in marble, their ornate designs inspired architects like Stanford White, whose rendition of the Old Penn Station alluded to the coffered ceilings of the Baths of Caracalla.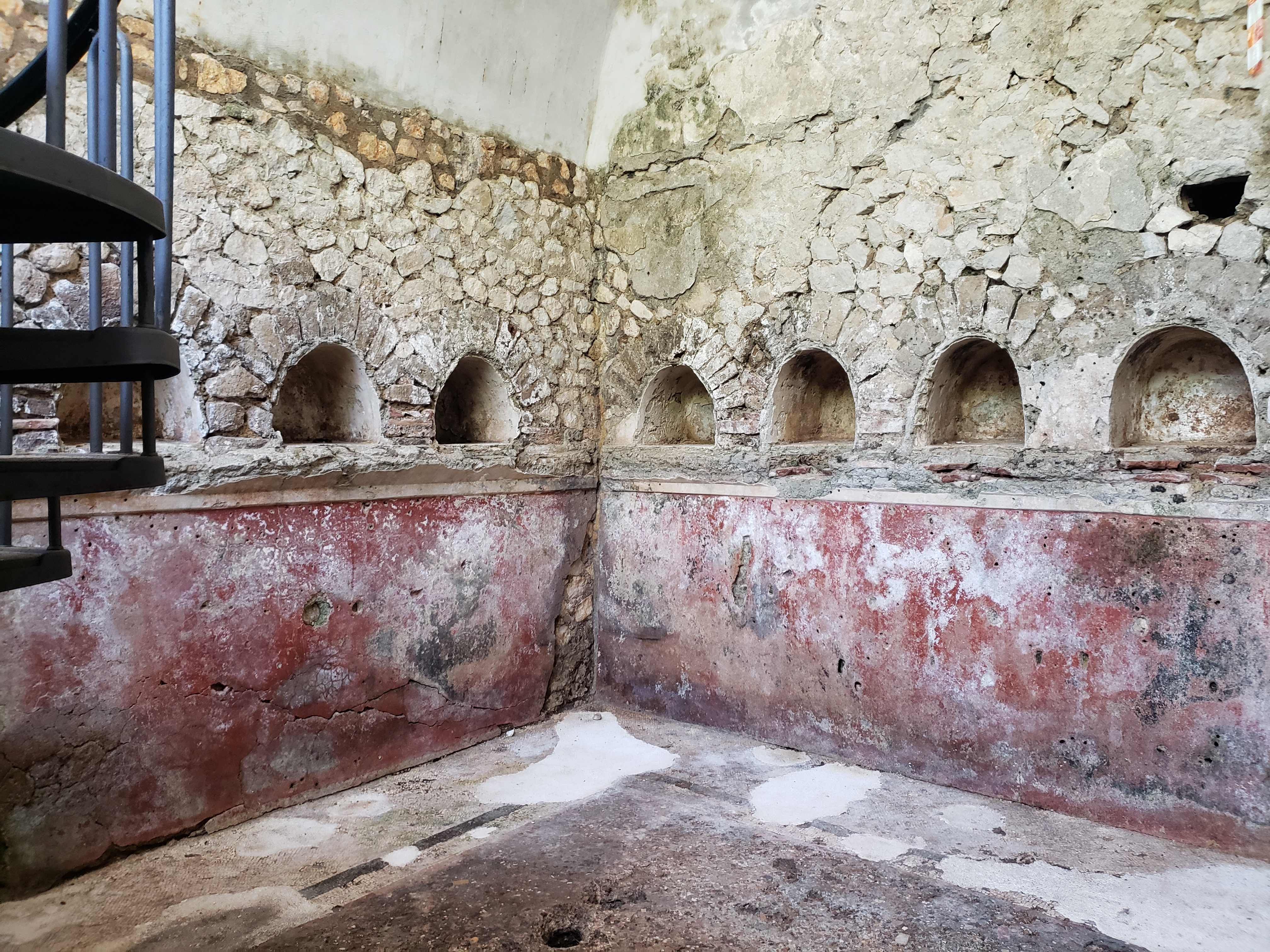 Ancient Roman bathhouse
Built in the Republican period where aqueducts and running water were less common, the baths of Torre Paola sported none of the extravagance of Caracalla. They made up for it instead in the practicality of construction materials and decorations. Wherever there was more contact between surfaces and water, the Romans used red mortar, which had a higher concentration of crushed brick aggregate in the cement. This made it more durable against the physical erosion of water and the propagation of cracks. In the baths of Torre Paola, the water-filled tubs were lined in the red material, while the floors were more lustrous, Roberto explained, due to pieces of colorful marble added to the red mortar for aesthetic.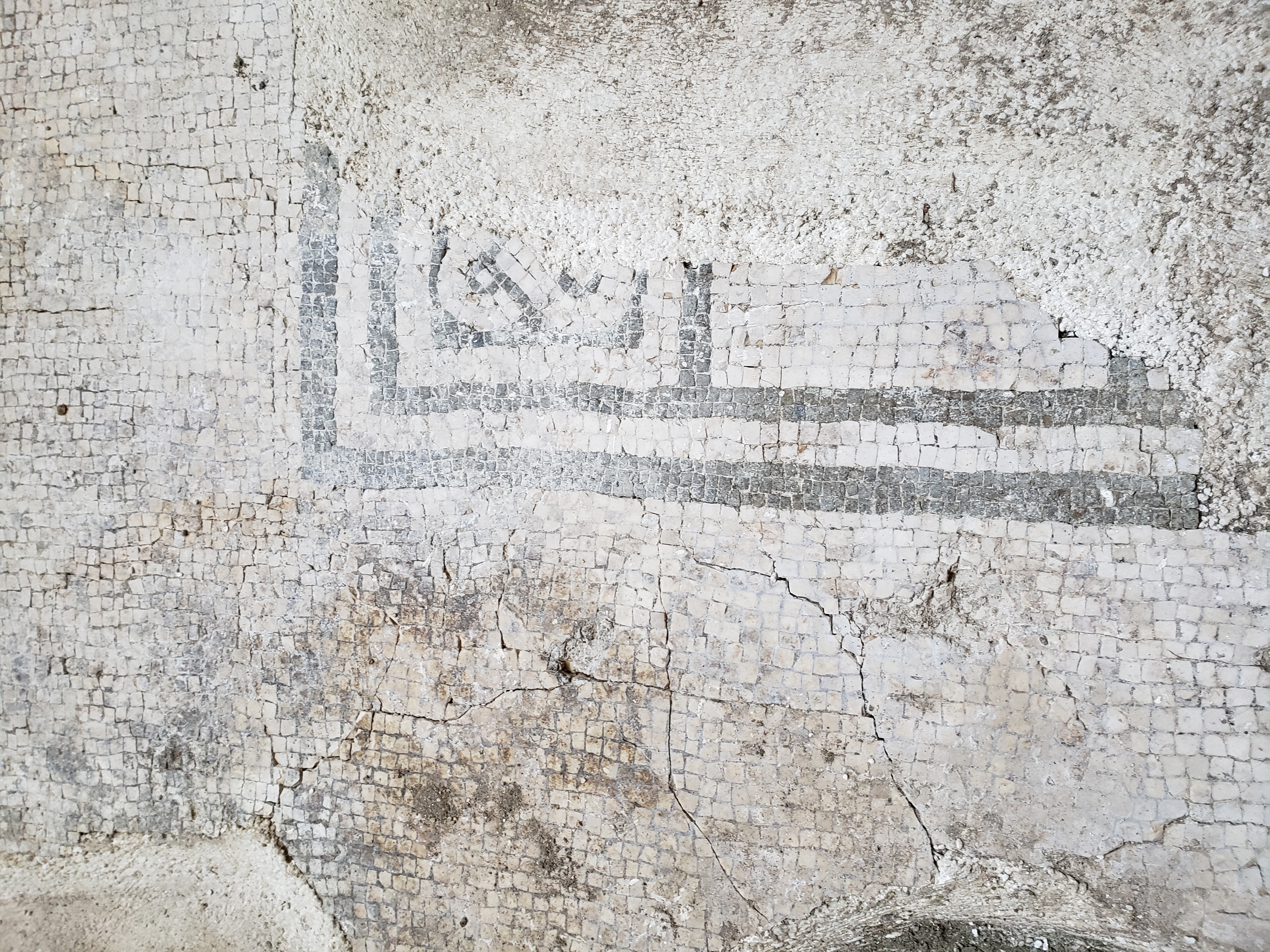 The mosaics on the floor of the bathhouse
The floors of other rooms were covered in the remains of tediously hand-crafted mosaics. Some of these had been partially destroyed, presumably by falling debris and leaking water, but others remained as smooth to the touch as their modern counterparts. Roberto's work revolved around trying to find the best way to clean and restore these mosaics, and our 16 pairs of hands made it easier for him to test multiple methods. While some of us physically scrubbed the tiles with brushes and sponges to remove dirt, others applied a dense algae solution that clung to grime and made it easier to wipe off. We noticed that using the algae was less abrasive than physical cleaning which could potentially damage weaker tiles. Professor Masic and Roberto explained that more stubborn filth could be removed with a laser that could be tuned to a particular wavelength as to chip away at any color other than that of the tesserae. Roberto's final comment was a pro tip for some of us future archeologists: always leave a thin layer of dirt so that you don't damage the original artifact.
Amazed at the resilience of the historic bath against the test of time and armed with Roberto's warning, we left the site with a newfound appreciation for Roman engineering and craftsmanship. Being out in the field then forced us to end the workday with something entirely un-Italian: eating lunch without a dish of pasta!
---