ONE-MA3 – Day II: Yoga, "Italian time", and Chaotic Volleyball
Published on:
Jun 19, 2019
Jun
19
2019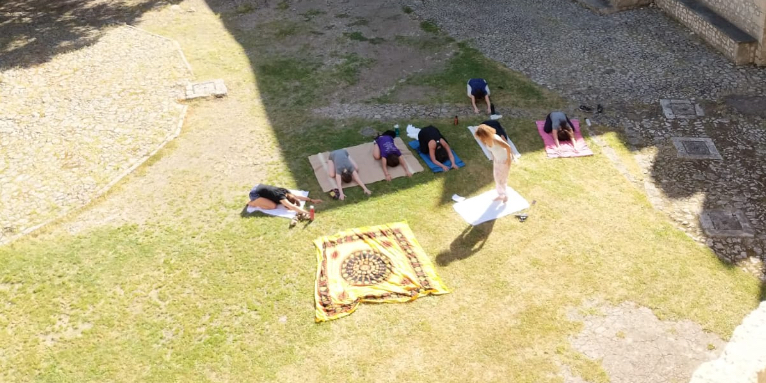 By Sophia Mittman '22
After a much-needed night of sleep to catch up from jet lag, some of us woke up to a relaxing class of yoga in the castle courtyard. We sampled our first classic Italian breakfast of coffee, tea, sponge cake, bread, cheese, and cured meats. To me, it seemed like a meal that would have been eaten in medieval times—another aspect that added to the entire ambiance of the 13th century castle. Following breakfast was a casual meander through the streets of Sermoneta, where we found an orange tree garden/park overlooking southern Italy, a friendly Italian white cat, and the gorgeous cathedral of the city (the Cathedral of Santa Maria Assunta in Heaven).
For the rest of the day, most of us thought we would be following a schedule of taking a tour of the castle before lunch, learning some phrases in an Italian lesson, teaching locals some English, playing soccer, and going on a gelato outing. As the course of the day progressed and that schedule did not come to fruition, the reality of what they told us is called "Italian time" sank in. Unlike MIT time, which is five minutes after the stated starting hour, "Italian time" (even better) ranges from three hours to three days after the stated starting hour. Eventually, we took a professional tour of the castle sometime in the afternoon and visited sites that we hadn't explored before, such as the barrel-domed stables and the nobles' luxurious bedrooms in the larger of the two towers. The Italian lesson never happened, but Professor Admir did show us a video on how to survive Italy using hand gestures alone.
As we waited for dinner, some of us began tossing a volleyball around in a circle. Eventually everyone joined—and Admir, of course—and for nearly three hours we stood out in the courtyard trying to beat our record streak, which eventually reached a whopping 55 thanks to Admir's dedicated and frequent calling of "I goooooooooo!" Admir is even more determined to beat that record sometime within the next couple of days. Then we made the mistake of bringing a soccer ball and a frisbee into the mix. It was chaotic to say the least, but even though most of us were exhausted, we played until the giant dinner triangle rang. To finish off the day, we were served a spectacular pasta dish with salad, bread with soft crusts, and leftover cake from Admir's birthday celebration and promptly fell into our own respective food comas.
---