TREX 2017: Collecting soil samples on a sweet potato farm
Published on:
Jan 18, 2017
Jan
18
2017

[fusion_text]Sweet Potatoes and Sweet People | January 18, 2017 | Lily Dove
Not much has changed between my six-year-old self and my 20-year-old self. I'm still stubborn, my favorite color is still pink, and I still like playing in the dirt. The difference now is that I can call my affinity for mud "science."
Today, we went out Mr. Richard Ha's farm and got some soil samples from a field of sweet potatoes. Soil samples are exactly what they sound like: to get one, you stick your hands into the soil, scream a little bit when you feel an earthworm (or a sweet potato), and bring up a handful of soil to bring back to the lab. Labeling the samples is very important; it doesn't matter how many samples you take if you don't remember where they came from!
Daniel Richman and Alexa Jaeger collecting soil samples. One might say they are outstanding in their field.
Six of us collected over 70 samples in the few hours we were out at the farm. It was exhausting because of the hot sun, but definitely worth it! The next few days, we'll be doing analysis on the nutrients present in the soil to help farmers plan their fertilization better. Amber and I (#TeamLimber) had a fantastic time collecting samples and we're looking forward to using ArcGIS to map out the results from our nutrient, pH, and moisture calculations.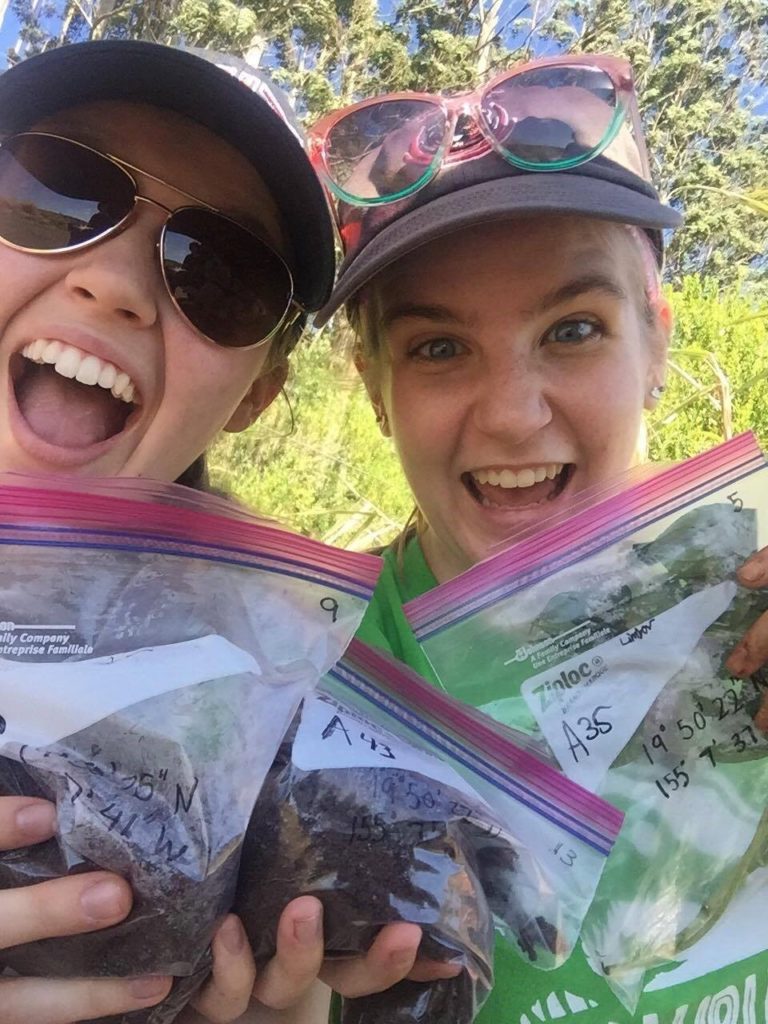 Team Limber pose with our soil samples. Thanks Mother Nature!
Everyone I have met here in Hawaii so far has been so kind and generous with their time and energy. TREX is possible because of a lot of amazing people here and on campus and the class is so lucky to be here in Hawaii living, learning, and growing together. To anyone and everyone who helps make TREX possible: I hope the Hawaiian sweet potato crop will be great this year because of you!
Every year, a group of MIT students and professors travel to the Big Island of Hawaii to gain fieldwork experience through TREX (Traveling Research Environmental EXperiences). The first TREX trip was held in 2000, and since launching has taken students on research activities in domestic and international settings. For more undergraduate opportunities, click here.
[/fusion_text]
---