TREX 2017: When in Hawaii, check out the lava
Published on:
Jan 20, 2017
Jan
20
2017

[fusion_text]Field Trip: Lava is worth it | January 19, 2017 | Alexa Jaeger
When Ben Kocar mentioned that we could potentially hike to see a current active lava flow pouring into the ocean, I was beyond excited and I was not the only one. Our entire group was down to do the 5 mile hike in to see the lava and then hike 5 miles back out at night and over rocky terrain. Lava is worth it.
So at 4pm we set aside our work and departed to see some lava. We arrived before sunset which is good because it was beautiful. Black volcanic rock from a lava flow about four years ago cut through the green vegetation. We walked along a gravel road with the ocean to our right. We could hear the waves crashing into the cliff side as we walked. In the distance, we could see the steam plume of our destination.
Our destination on the horizon
After about 4 miles on the gravel road, it was time to leave the path and hike over about a mile of big volcanic rocks. At this point it was dark, we could see nothing but the orange glow of the lava at the base of the steam plume. We pulled out our headlamps marched onward. We clambered over rope-y pahoehoe, jumping from rock to rock. The hiking was difficult, but interesting and fun. In the dark, you had to keep your eyes on the ground at all times to watch for cracks and sudden terrain changes. The rocks sparkled brightly in my headlamp beam. This is because of reflective minerals like biotite.
Finally, we reached the point where we could see the lava. A large plume of steam glowed orange. Every once in a while, the steam parted and you could see the river of lava cascading over the cliff and into the ocean. Occasionally it would splash out and glowing orange dots scattered in front of the steam. Lava is so viscous that the splashing appeared to be in slow motion. It was like a fireworks show. In addition, there was no light pollution so we could see so many stars and other celestial objects: Venus, Mars, the bright haze of the arm of the Milky Way. We watched for over an hour. It was genuinely one of the coolest experiences of my life.
Lava and stars
The hike back in complete darkness was long and brutal, but the occasional shooting star kept us entertained. By the end, we were all exhausted. It was worth it though. We saw something that you can only see in very few places. It reminded us all that Earth is very much alive.
Visiting the lava pond | January 20, 2017 | Abby Harvey
When you think about visiting Hawaii, there to be lots of things to be excited about: touring mountaintop observatories, visiting beautiful beaches, flying a UAV, or hiking to see lava. If you're me, a former course 12 turned course 1, who loves everything from rocks to the atmosphere to the atmospheres of other planets, the most exciting thing about Hawaii is learning about the lava pond. But why, you might ask. What is exciting about this?
On the crater of Kilauea, there is a lava pond. This is where the lava reaches and hangs out. You can't really get close enough to see it without special permissions and safety gear, but if you're, say, part of an MIT group who gets to tour the Hawai'i Volcano Observatory, you're allowed up to the observatory and given binoculars and free range of photo-taking. Here, you can see some bubbling, and you can also see some bright red cracks in the lava pond!
Hawai'i Volcano Observatory researcher describes lava pond activity
You might expect the lava pond to behave something like a pond, with lava bubbling and moving freely about the surface, behaving something like water. Well, lava is NOT water, and (here's the exciting part) it creates behavior more like tectonic plates. The material coming out of the volcano is also what makes up our planet's mantle and drives large-scale plate tectonics, but it is extremely exciting to get to see the tectonics play out on smaller scale in a much shorter time period.
Plus, every so often, a piece of rock from the walls surrounding the lava pond will fall into the pond and disrupt the pond tectonics, crashing through one or several plates and causing bursts of lava to break through. After a short time of disruption, however, the tectonics return to usual, with upwelling occurring in the same location as before!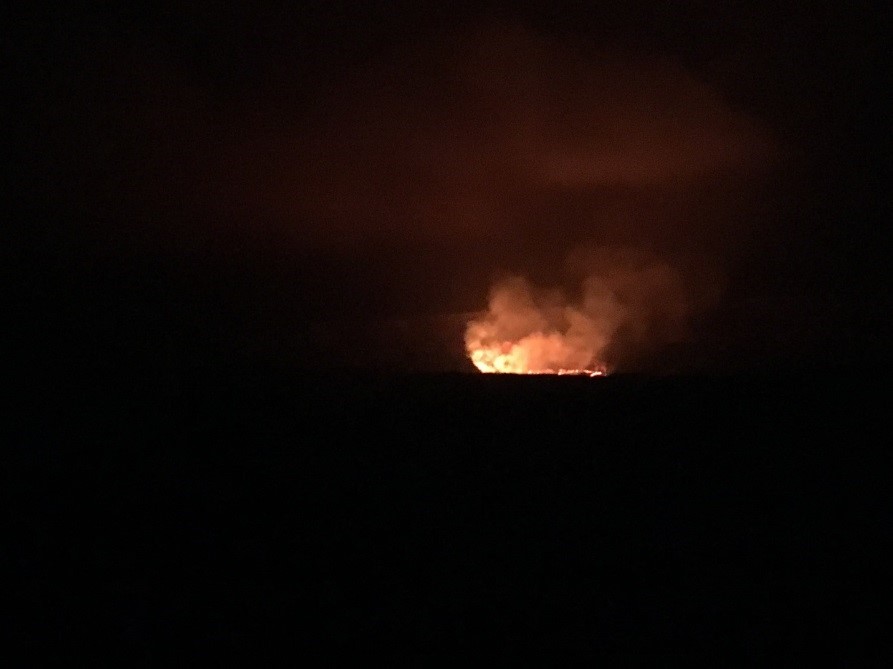 Features of the lava pond tectonics: upwelling region at divergent "plates", creating new plate material (which you can see in the lines of lava in the lava pond); subduction zones, where plates grow older and colder and sink below newer plates
Every year, a group of MIT students and professors travel to the Big Island of Hawaii to gain fieldwork experience through TREX (Traveling Research Environmental EXperiences). The first TREX trip was held in 2000, and since launching has taken students on research activities in domestic and international settings. For more undergraduate opportunities, click here.
[/fusion_text]
---