TREX 2019: The Mission to Ascend Mauna Kea
Published on:
Jan 22, 2019
Jan
22
2019

By Peter Duff '20
On our sixth day on the island, we had a singular mission; ascend Mauna Kea, and do so in one piece. Mauna Kea is a dormant volcano, stretching ear-popping 13800 feet into the sky, making it the highest point in the state. Its peak is sacred for the native peoples of Hawaii – and well above most clouds, an ideal location for telescopes.
A small path in the foothills.
We rose early to rent 4-wheel-drive vehicles for the journey up the slopes, as our minivans weren't going to cut it. We drove an hour to the visitor's center, already some 9000 feet above sea level, where we rested for an hour to acclimate to the altitude. Many of us already felt a little light-headed, and it would be much worse at the summit.
The visitor's center, from a nearby hill.
After a quick lunch, we sat for a talk by Simon Radford, Director of Hawaii Operations for the Submillimeter Array, a massive radio telescope consisting of 8 separate 20-foot radio telescopes; the signal is then integrated by a massive computer with a Fourier transform to produce useful images. He explained to us as best he could (with our limited knowledge of radio telescopes!) how the telescope works, and its importance to astronomy.
One of the 8 telescopes making up the SMA.
After his talk, we locked the vehicles into 4-wheel-drive and started the final 5000-foot ascent up a winding dirt road. We tumbled out of the vehicles next to the submillimeter array; we were all feeling the altitude by that point. Speech was harder; the words were escaping us. Mild headaches set in, along with fatigue. We endured the symptoms as best we could, while Simon and an associate gave us a tour of the SMA.
Controls for the array. And, thankfully, an oxygenated room.
About half of the group was feeling brave (or foolish) and decided to wait for the sunset at the top of the mountain. We staved off the headaches with charades, and finally it was time. The result was spectacular.
A spectacular sunset over the pacific.
As the sun slipped below the horizon, it was time to descend. We stopped on the way back at a 24-hour pancake restaurant for some hearty Hawaiian fare – a Loco Moco bowl. A huge bowl of rice topped with a hamburger patty, chili, cheese, and 2 eggs. It was well worth the heartburn.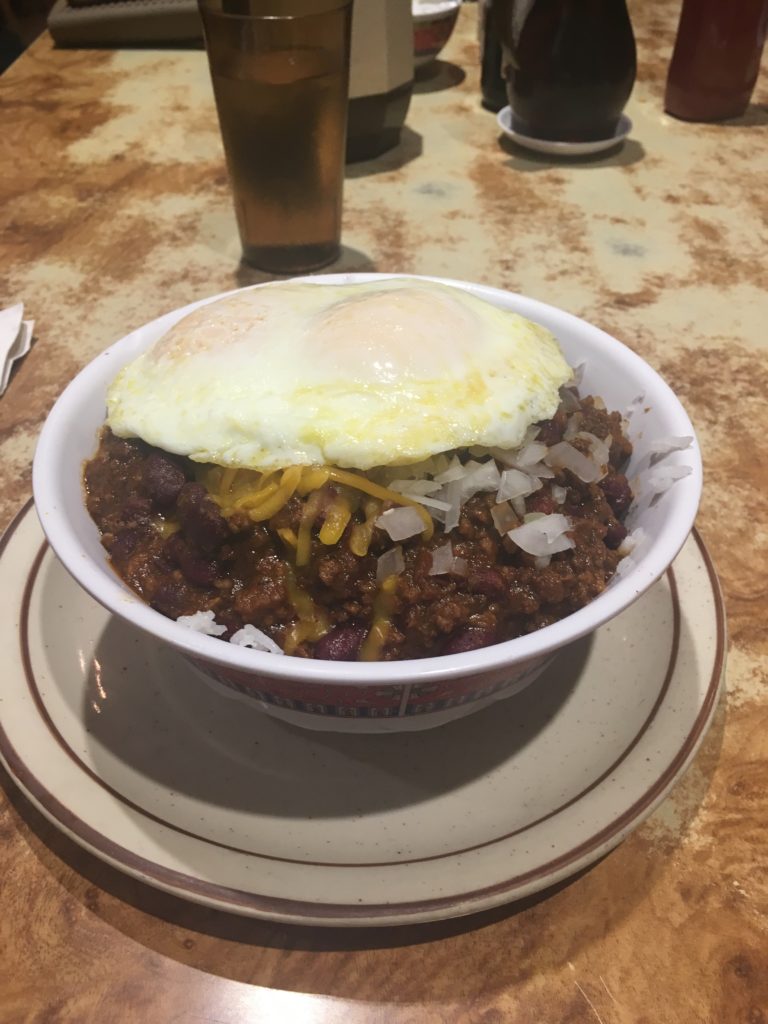 Yum. Highly shovelable.
---