TREX 2017: First day of fieldwork
Published on:
Jan 15, 2017
Jan
15
2017

[fusion_text]Sensor Squad | Sunday January 15, 2017 | Alexa Jaeger
Today was the first real day of field work. We split into two teams for the two different projects: sensor squad and the UAV team. I was a member of the sensor squad. We spent the day mounting our sensors at the site of a Hawaiian Department of Health air quality monitoring station at Pahala. The idea is to leave our sensors by the official sensor and then use the official sensor data to calibrate our sensors' data. This will allow us to convert our voltage data from the working electrode into SO2 data in ppb. In addition, it will allow us to verify that our sensors are working properly.
It was a lot of fun finding ways to safely mount the sensors and their solar panels. We got to climb on a roof and do some MacGyver-ing. Using string, tape, zip-ties, old pieces of wood, and some good old fashioned engineering we fastened two sensors onto a fence and 6sixsensors onto a wind measurement tower at the monitoring station.
Lily Dove and Daniel Richman stand on the roof to mount sensors to the wind measurement tower.
When we returned to the Kilauea Military Camp, we started writing the code that we will use to calibrate the sensor data. It was rough at first since half of us had no experience with R or with GitHub, but we all started to learn soon enough. We split into 3 groups to write scripts to pull data from our sensors (which we have named the Model T sensors), the open AQ website containing hourly Department of Health Data, and from a spreadsheet containing data values for each minute from the monitoring station.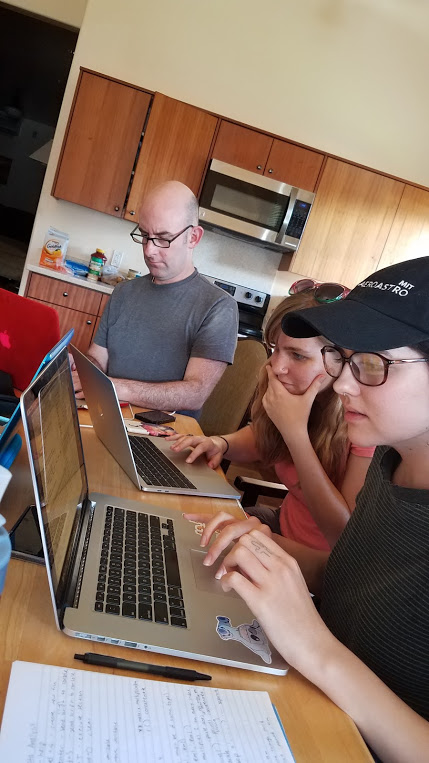 Lily Dove, Danielle Hecht, and Jesse Kroll dive into learning R
Taking a break to hike the Kīlauea Iki | Sunday January 15, 2017 | Daniel Richman
Our afternoon passed productively, spent writing R scripts to collect data from our sulfur dioxide sensors. For a break, we decided to hike the Kīlauea Iki (little Kīlauea) crater, which is inactive but otherworldly. In 1959, it filled with lava, sprayed and fountained to 1,900 feet, drained, and cooled. Descending into the crater reminded me of approaching the surface of the moon. It is dark and jagged with chunks and boulders and tiles of basalt. Barren? No, the ʻōhiʻa tree, Metrosideros polymorpha, dots the crater.
ʻŌhiʻa trees matter a great deal to Hawaii. They are the first plant species to colonize a new lava flow, their roots probing into the rock for water and nutrients. Their growth patterns and adaptability were extensively studied by Peter Vitousek, the famous biologist of the islands. They live at high elevations and low, in dry and wet conditions, on basalt and on soil—but they look proudest when they are alone on the lava fields.
An ʻōhiʻa tree rooted in the crater
Jagged aʻa and smooth ropy pāhoehoe lavas cover the crater. Little steam clouds rise here and there from its surface, not volcanic gas emissions but simply rainfall, filtered through the rock, then jolted by the heat into leaving the earth. Huge cracks divide portions of the landscape, with tiles of lava upturned and rotated this way and that. There are hills and flat sections of lava, cairns and pillows and crags of black basalt, and we humans filing along deep within.
The sun sets near the edge of Kīlauea Iki.
Every year, a group of MIT students and professors travel to the Big Island of Hawaii to gain fieldwork experience through TREX (Traveling Research Environmental EXperiences). The first TREX trip was held in 2000, and since launching has taken students on research activities in domestic and international settings. Third year CEE student Alexa Jaeger and Fourth year EECS student Daniel Richman share their adventures. For more undergraduate opportunities, click here. [/fusion_text]
---