TREX 2017: Students test equipment and explore local Hawaii farm
Published on:
Jan 14, 2017
Jan
14
2017

[fusion_text]Adjusting to Hawaii and getting started | Saturday January 14, 2017 | Alexa Jaeger
A rooster calls loudly. That is how the morning started for the TREX students. A handful of roosters ran around behind our hotel crying out from 5 AM onward. I never knew how loud roosters are! I took advantage of the wake-up call and my jet-lag-driven alertness and got out of bed at 5:30 AM. I set up my tripod with my new camera on our balcony facing east to try to capture a time-lapse of the sunrise. The new camera that I got for Christmas (shout out to my mom) can connect with my phone wirelessly. So I relaxed in bed, watching the sunrise on my phone, and using my phone to remotely take pictures for my time lapse. It was a pretty cool way to start the day.
Hawaii sunrise
Next we embarked on the 2 hour journey from our hotel to Kilauea Military Camp. Danielle and I rode in Ben's van. Our caravan of vans and cars wound through the beautiful Hawaiian landscape, passing ocean views and old lava flows. I guess the scenery was distracting because somehow we ended up following a random white van that was not one of our own. Suddenly Ben's van had taken a random detour by a black sand beach, accidentally stalking an old couple in a similar van. Oops. Let's call it the scenic route and say we did it on purpose.
We arrived at Kilauea Military Camp by noon. We are staying in a firehouse on the base. It has a lovely open kitchen, perfect for collaborative work. In addition, it has a hot tub (Course 1: doing research in luxurious style).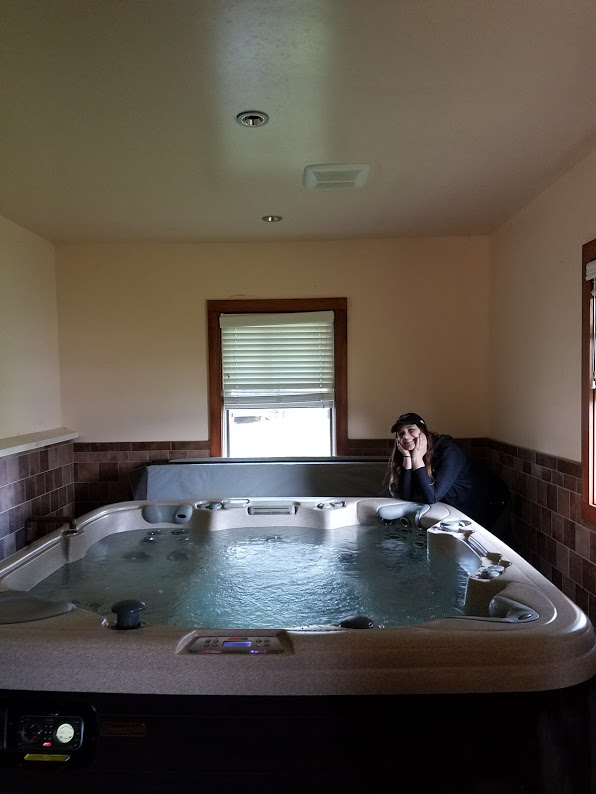 Deanna Delgado admiring our hot tub
After lunch, we split into groups to get different tasks done. Some went to the store, some went to test out some UAVs at a farm, and some stayed behind to prepare our SO2 sensors. Tchelet, Mikayla, Lilly, and I were on sensor duty with David. We put batteries in all the sensors and tested them while jamming to Disney music. We got 13/15 sensors working right away which is a great start for day one.
Learning from locals and testing UAVs with drones | Saturday January 14, 2017 | Daniel Richman
On Saturday, five of us visited a farm and tested our drone over sweet potato and banana fields. The farm we visited is situated in Pepeekeo (prounounced Peh-peh-ay-kay-oh), about ten miles north of Hilo. This location lies near the bullseye of highest rainfall on the island: more than 120 inches a year. We flew the drone about 100 feet above the crops, collecting visible and near-infrared imagery.
The owner of the land is an impressive and terrific guy, a Native Hawaiian named Richard Ha. His 600 acres are a few miles from the ocean, but they slope upward to the summit of Mauna Kea. We talked to him about the crops he grows, the soil and fertilizer he uses, and the land he rents out: to a company growing GMO corn, to people who plant bananas, to the University of Hawaii Extension for taro experiments.
Mr. Ha even produces his own electricity. In the bygone era of the Hawaiian sugar cane plantations, a narrow canal was dug to divert water from the Waiʻaʻama Stream. At harvest time, workers could simply float cane down the hillside to the canal's bottom, where it would be collected and processed. Now, thanks to a state loan program that Mr. Ha himself helped to create, the water runs through a filter that removes debris. It then passes down a pipe within the hill own hydroelectric generating station, which produces 100 kW of power, enough to power about five Hawaiian households—or one large farm and more.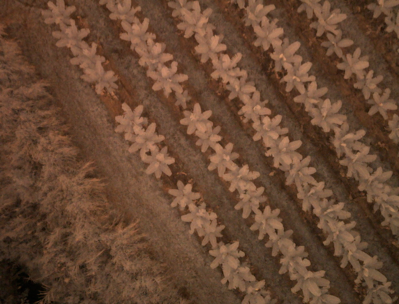 A false-color infrared view of bananas from 200 feet up
I could talk on and on about Mr. Ha, but our real purpose in coming was to test our drone on some of his banana and sweet potato fields. Healthy plants reflect more infrared light than sick plants do, so by comparing IR brightness with brightness in the visible range (the light plants absorb so they can photosynthesize), we can tell how well different areas of the field are thriving.
What might limit plant success? Nutrient bioavailability is a major problem in Hawaii. The iron oxide in the volcanic lava strongly binds soil nitrogen, limiting how much plants can use and requiring farmers to heavily apply fertilizer. Phosphorous and soil pH can present further difficulties, as can drainage. This week we'll be collecting much more imagery and investigating what clues it can give us about plant health and soil conditions. We can then compare the images with soil samples and observations from around the field. With luck, we'll be able to tell a detailed story about crop and soil conditions in the Hawaiian environment!
Every year, a group of MIT students and professors travel to the Big Island of Hawaii to gain fieldwork experience through TREX (Traveling Research Environmental EXperiences). The first TREX trip was held in 2000, and since launching has taken students on research activities in domestic and international settings. For more undergraduate opportunities, click here.
[/fusion_text]
---