Study Abroad in Edinburgh – Discovering a New Learning Environment
Published on:
Dec 13, 2018
Dec
13
2018

By Milani-Chatterji-Len '19
This is my last week as a study abroad student at the University of Edinburgh – check out Blog 1 and Blog 2 to see what I have been doing up to this point. Even being in the thick of exams, I find myself learning new more about how the educational system here works every day. It has surprised me how much the education system in the UK differs from the American one, at least in my experience. Although it has been challenging at times to keep up with students who are used to studying at the University of Edinburgh, I have enjoyed trying to adapt to a new system.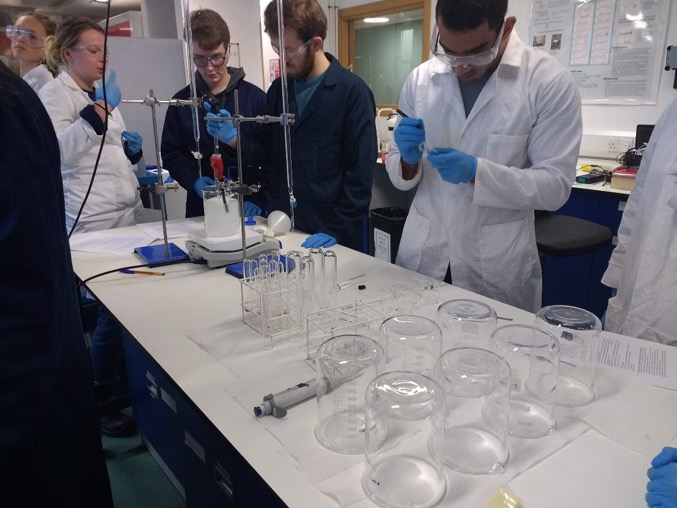 Completing the last of three labs for Water Engineering, Transport and Treatment 3.
The scariest aspect of my classes is the lack of assignments. At MIT, I often wish I had fewer problem sets and more time to relax or study on my own, but Edinburgh classes are at the complete opposite end of the spectrum. For example, I am taking a class called "Water Engineering, Transport and Treatment," for third year students which focuses on open channel flow, pipe flow, water and wastewater treatment. Despite the broad scope of the class, our only graded assignments during the semester were three labs, one for each topic covered. Plus, due to the large size of the class, each assignment was submitted as a group of eight students. I found labs fun because they allowed me to meet other students in my class with whom I would not have otherwise interacted with.
While the lack of graded work has allowed me more time to explore the beautiful city of Edinburgh and the countryside surrounding it and meet new people, it comes with a cost. For me, the biggest downside to this model, focused on self-study, is that I prefer to have more face time in class, recitation and office hours. It was challenging to not have practice assignments or problem sets to gauge how well I understood the material being presented. The other, more consequential result of few assignments is a hefty end-of-semester exam. Since there were no midterms for any of my classes, the exams I am taking now amount to more than half of my final grade (the one for water was worth 80%!). However, we are given a full five days to review before a two week exam period, as opposed to MIT's one day of review, so there is plenty of time at the end of the term to catch up.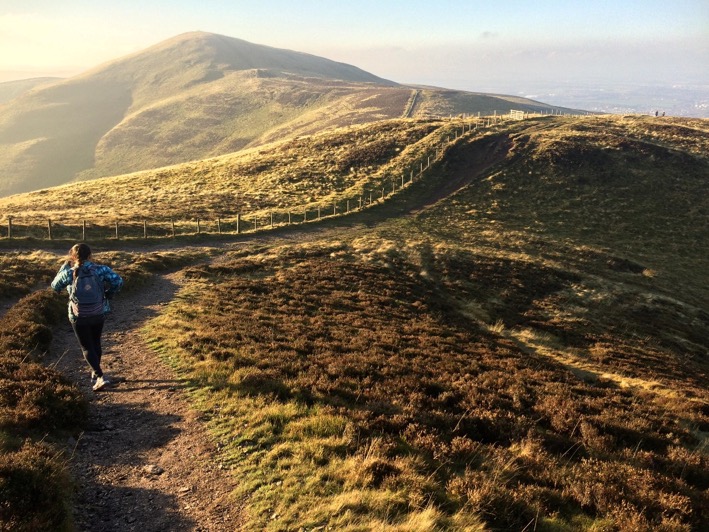 Exploring the vast grassy hills of the Pentlands, only a few miles from the city center.
In the time that I was not spending on class assignments, I made it a priority to get to know the Edinburgh area as much as I could. Rather than just seeing tourist attractions, I was keen to experience the city as a local. A favorite pastime of many Scottish people is to enjoy the beautiful landscape that is present even in the larger cities like Edinburgh. A few weekends ago, I used the incredibly efficient bus system to travel to the Pentlands, the rolling hills about 45 minutes south of the city. My main goal of the trip was to spot some majestic Highland Cattle, fluffy cows native to Scotland. I was not disappointed – I spotted multiple herds of cattle lying around and grazing in the grass. In addition, I could see across the entire city of Edinburgh from such a high elevation.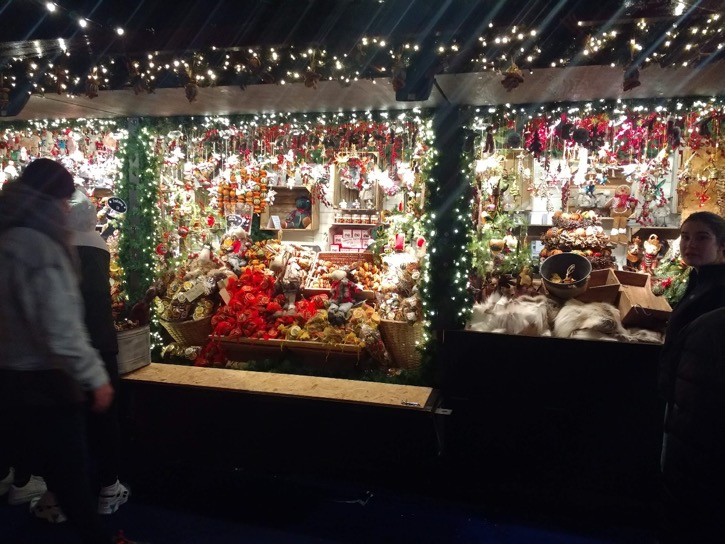 A vendor at the Edinburgh Christmas Market, held annually in Prince's Street Gardens.
Besides the cattle and grass, I explored another favorite of locals and tourists alike: the German-style Christmas Market. The market is held annually in Prince's Street Gardens in the city center and is complete with mulled wine, a Ferris wheel, and quaint shops selling ornaments. Admittedly it is overpriced, selling to people craving some holiday spirit. Nonetheless, it is a beautiful place to spend weekend evenings and get excited for winter break. I will certainly miss the European charm and gorgeous landscape of Edinburgh, but look forward to returning to my normal class schedule, and supportive community at MIT.
---