Summer in Santiago: Collaborating on Urban Mobility
Published on:
Aug 04, 2017
Aug
04
2017

By Christine Langston
During my first week and my fourth week here in Santiago, I attended two 'talleres,' or workshops, put on by the Chilean Ministry of Transportation and Telecommunication (MTT, not to be confused with MIT) and a consulting firm.
These workshops brought about 30 transportation industry professionals together to discuss ways we could innovate and solve problems related to urban mobility. We sat at tables of six people and were lead through different thought and brainstorming exercises. For example, at my table I met a representative from one of the largest energy companies in Chile, a regional director of a public transportation activist group, and a few MTT employees.
These workshops were important collaboration efforts between the private and public sectors and between the geographically divided communities of Santiago. I call Santiago a city, but it is really considered a Providence with 32 'comunas,' or communities. There exists an overarching government, but it has been described to me as weak when getting policy and infrastructure implemented.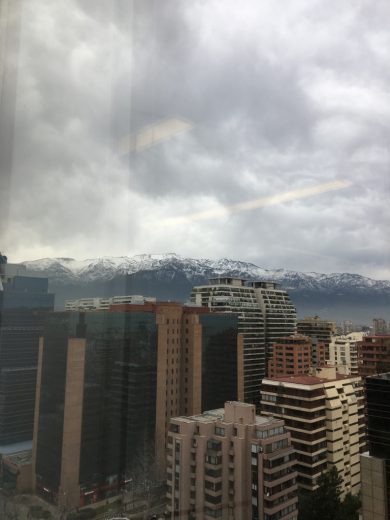 This is the view from the 15th floor of the office building where the MTT workshop or 'taller,' took place. When its clear in Santiago, you can see the stunning Andes mountains!
Infrastructure like the Metro system is actually managed by the federal government of Chile (under MTT), not the municipal governing body. As this is the case, these workshops are useful to bring professionals from a variety of comunas together to cultivate and develop a new to Santiago style of discussion.
Before this workshop, I knew I enjoyed working with people and participating in interdisciplinary conversations with a variety of perspectives, simply because I find other people interesting. I found these workshops to be fun and refreshing, as I listened to and worked with different people. This experience confirmed my former belief that I think considering a variety of voices and experiences from stakeholders is key to designing better solutions.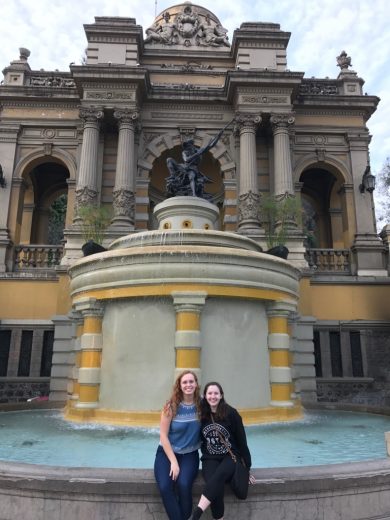 This is a photo of me and Lauren Johnson (Course 2 '19) in front of Neputne's fountain, close to the center of Santiago. Lauren and I live together in an apartment and its been so fun to have her as an adventure buddy.
As an engineer, I'll take this perspective with me in to my career. It has made me discover my interest in designing more inclusive cities, a theme identified by the World Bank as an important topic in Urban Development.
In today's world, urbanization can exacerbate the inequality in our cities, and we need groups of diverse stakeholders to come together, collaborate, and innovate. I think we need more conversations and workshops like the ones I've attended in Santiago to be taking place across the world; and I'm glad I have been able to participate in the ones here this summer.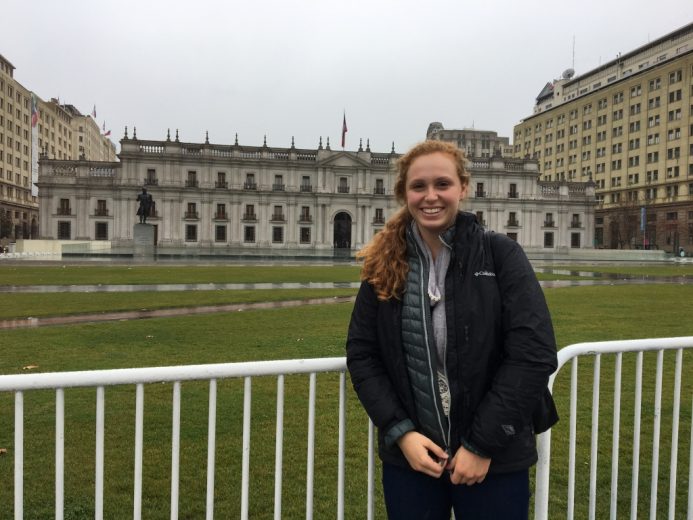 Here I'm standing in front of Palacio de la Moneda, the palace where the President works in Santiago. My office is only a few blocks away.
Christine Langston is a rising junior at MIT in the Department of Civil and Environmental Engineering and is interested in systems engineering, specifically how technology can improve cities in the areas of transportation, business, and sustainability. She is spending the summer in Santiago, Chile while interning at the Chilean Agency of Economic Development through MISTI (MIT International Science and Technology Initiatives).[/fusion_text]
---
Undergraduate Student Life

In The News