ONE-MA3 2017: The Journey Continues
Published on:
Jun 27, 2017
Jun
27
2017

[fusion_text]By Sierra Rosenzweig
6/23/2017 – Hidden Underneath the Vatican
We were all sad to leave the castle in Priverno, but it was time to leave our fortress full of research gadgets and gelato for an adventure in the big city – Rome.
The ONE-MA3 team at the dig site in Privernum, enjoying the days of research before we left for Rome (Photo by Max Kessler)
In Rome, we walked all day and all night, leaving no sight unseen. During the day, we were fortunate enough to be taken to Vatican City, not for a tour of the museum, but for a special set of lectures in labs hidden on the rooftop and in the basement. We heard from dozens of restorers working in the labs and got to see the restoration of art and artifacts in progress. They took us deep underneath the Vatican museum to see the XRD machines hard at work determining composition of artifacts from around the world!
Our TAs Chad and Linda made their way to the Pantheon and gazed at the Oculus (Photo by Grace Kim)
Our day didn't stop after the lab visits. We then headed to the Colosseum, the Roman Forum, the Pantheon, the Sistine Chapel, and many other famous sites in the area during the day. We also got to see the brilliant night-life in the area. We traveled the city deep into the night, and found that the streets were even more packed with trinket-shoppers and musicians at 2am than during the day. The bands by the river played on into the night, long after we turned in and fell asleep.
6/25/17 – A Sunny Day in Pompeii
The next stop on our Italian adventure was Pompeii. We were tasked to walk through the ruins of the ancient city to acquaint ourselves with the place before we went to any labs or did any research in the area. We walked through the city – into every building and courtyard available and gazed at the artwork in the area.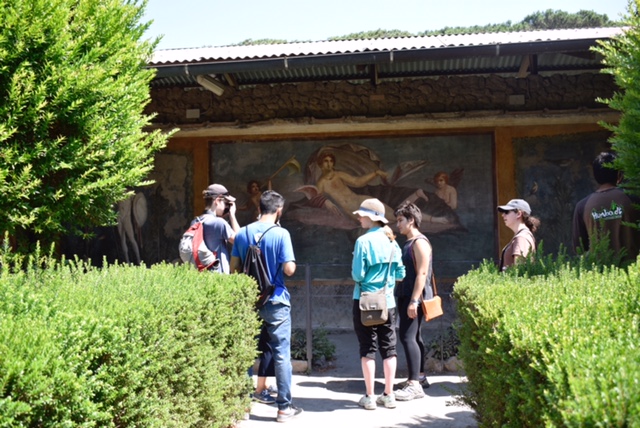 A group of ONE-MA3 students discussing one of the paintings in Pompeii
We spent the whole day walking through more than a hundred acres of the ancient city in the hot sun. We saw bath houses, brothels, and amphitheaters on our trek, and even made sure to explore the statues and mosaics sheltered in the buildings.
Omar Laris gazes into the courtyard from the inside of one of the ancient buildings in Pompeii
By the end of our many-hour long walk through Pompeii, we were exhausted and warm from the hot sun. We ended the day with some gelato to cool off in this historic site.
Muji and Omar enjoy gelato by the ruins after a long day in the sun
This summer, Professor Admir Masic is leading a program on Materials in Art, Archaeology and Architecture (ONE-MA3), in which MIT undergraduates are conducting three weeks of fieldwork in Privernum, Pompeii and Turin as a prerequisite for the Fall 2017 MIT course, 1.057 Heritage Science and Technology.  The program involves real-world analysis of ancient infrastructures and materials and focus on teaching ways to improve sustainability of the future through the study of ancient successes. [/fusion_text]
---