ONE-MA3 2018: Learning Photogrammetry and DPI
Published on:
Jun 20, 2018
Jun
20
2018

By Rachel Weissman '21
After a weekend of kayaking and beaches, we began our real work on Monday, June 18. In the morning we received a guest lecture from Diego Ronchi, a doctorate student at the Accademia dei Lincei in Rome. He taught us about photogrammetry, digital photography, and the basics of computer graphics. We learned how software such as PhotoScan and CloudCompare works to convert 2D photos into 3D point clouds and 3D meshes. Understanding the basic computing behind these programs, and the relationship between photosensors found in cameras and digital displays on computers helped us as we used our own data to make 3D models in the afternoon.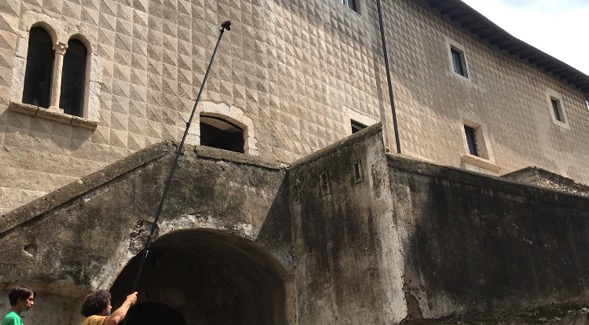 Collecting pictures from courtyard
In the afternoon, we split into three groups.  One group worked with the drone, one worked with DPI, and the third worked with photogrammetry.  Both the drone group and the photogrammetry collected photographic data on the courtyard of our castle.  While the drone group collected pictures from a bird's eye view, the photogrammetry group used a simple point and shoot camera, as well as their iPhones, to take more detailed pictures of the area.  Together these two groups combined their photos in PhotoScan to make a model of our courtyard with details of the wells, pillars, and crests.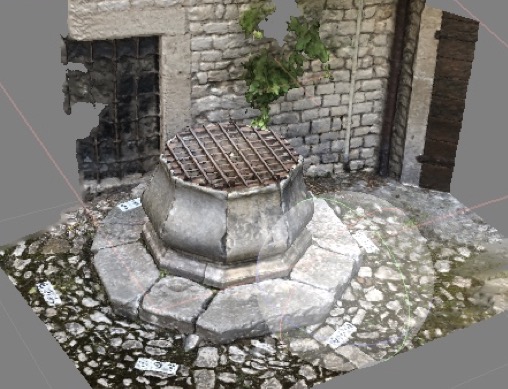 Details of well from courtyard

Details of Caetani crest found on wall in courtyard
DPI (dots per inch) technology uses infrared sensors to compute the 3D conformation of an object or room.  This infrared data is combined with digital photography to capture the color of the object as well.  This technology works best with smaller objects and in shaded areas so the infrared rays are not distorted by sunlight.  The DPI group modeled a small wooden statue of Jesus on the cross and a stone stature of Mary and Baby Jesus.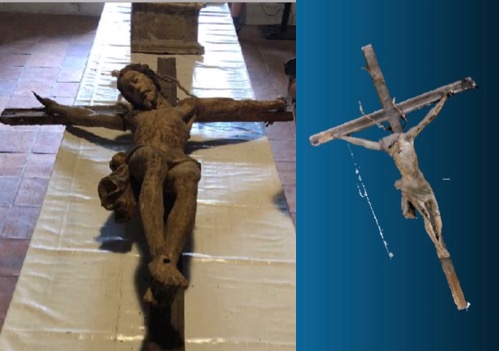 Picture of Jesus statue (right) and the screenshot of statue reconstructed in PhotoScan (left)
In the evening, we presented our work to the rest of the class. We shared our successes and failures, as well as the advantages and disadvantages of each technique. We then enjoyed a delicous dinner while watching the World Cup projected into the wall of our midieval castle.
And of course, we ended the day with plenty of gelato.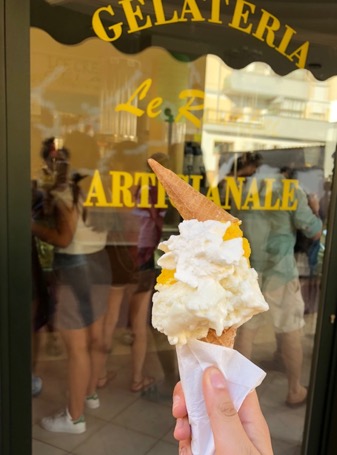 This summer, Professor Admir Masic is leading a program on Materials in Art, Archaeology and Architecture (ONE-MA3), in which MIT undergraduates are conducting three weeks of fieldwork in Privernum, Pompeii and Turin as a prerequisite for the Fall 2018 MIT course, 1.057 Heritage Science and Technology.  The program involves real-world analysis of ancient infrastructures and materials and focus on teaching ways to improve sustainability of the future through the study of ancient successes.
---