ONE-MA3 2018: American Academy and a Taste of Rome
Published on:
Jul 01, 2018
Jul
01
2018

By Sophie Cohen '21
Today we ventured into Rome to tour the American Academy. MIT professor John is the current director, and he showed us the library, the lawn, the eating area, and an underground aqueduct. We were able to go inside of the aqueduct, which is quite small. John explained the sustainable model for the Academy, which includes recirculating water in the fountains, locally sourced foods and in season menus. We were able to try this delicious food while at lunch with the scholars who currently live there.
Talking with a scholar's son during lunch
After lunch, we saw the office and studio space for another MIT professor who won the Rome Prize for the past year. He has spent his year working on concrete sculptures. These sculptures are made in a cast with a specific center of gravity that allows them to pull themselves up from the cast once unconstrained. With this technology, he is hoping to create concrete walls that will pull themselves up to build sustainable buildings. We were allowed to push and pull at his sculpture to see how it always pulls itself back up to its original tilt using its center of mass.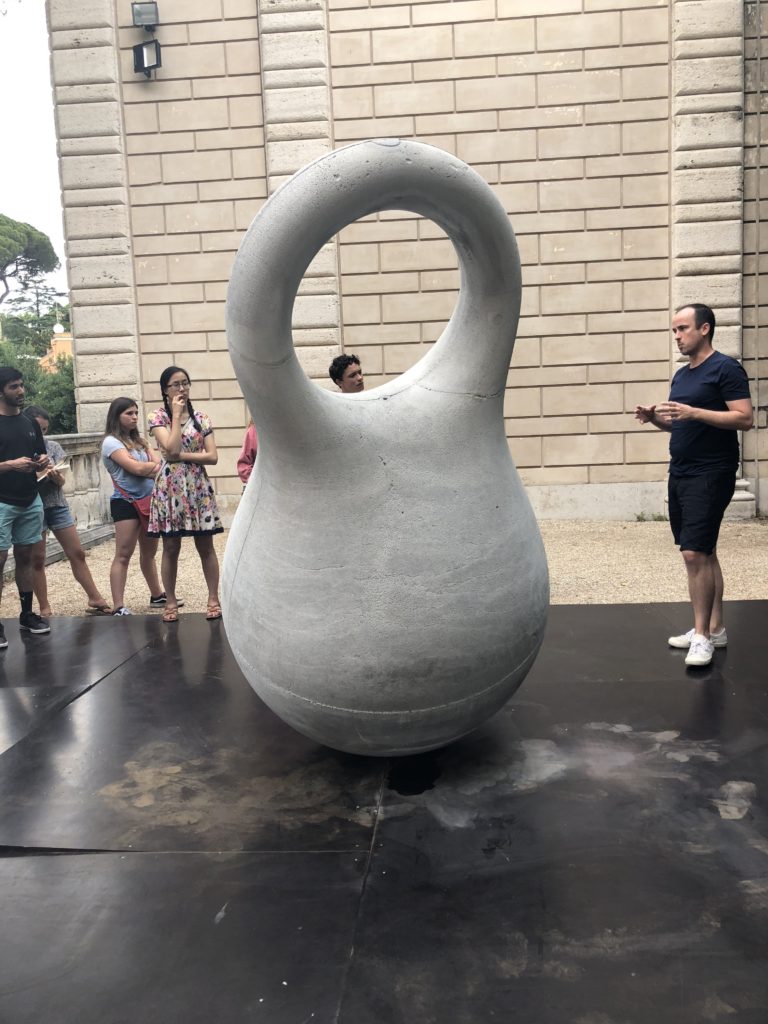 A 2 ton concrete sculpture at the Academy
After touring the Academy, we had free time in Rome. Many of us visited famous Roman sites including the Pantheon, the Trevi Fountain, and the Spanish Steps. We were amazed by their architecture and delighted that we knew a lot about their history and the way they were built, especially the unreinforced concrete of the Pantheon. Then we had the best gelato of our trip thus far and roamed around in a few tourist shops.
The Trevi Fountain
Sam and the view from the Spanish Steps
At the Piazza di Spagna
View of the Pantheon
After a fun-filled afternoon, we headed back to Sermoneta by train and had another great dinner at the castle
This summer, Professor Admir Masic is leading a program on Materials in Art, Archaeology and Architecture (ONE-MA3), in which MIT undergraduates are conducting three weeks of fieldwork in Privernum, Pompeii and Turin as a prerequisite for the Fall 2018 MIT course, 1.057 Heritage Science and Technology. The program involves real-world analysis of ancient infrastructures and materials and focus on teaching ways to improve sustainability of the future through the study of ancient successes.
---