ONE-MA3 2018: Ancient Artisans in Training
Published on:
Jul 01, 2018
Jul
01
2018

By Sophie Cohen '21
On Thursday, we dipped into the mindset of ancient Roman artisans and learned how to make traditional frescoes. Marco's father, Gian Luigi, taught us the steps of making a fresco. He began with a demonstration in Castle Caetani's courtyard, where he replicated a Roman design of a sphinx-like animal.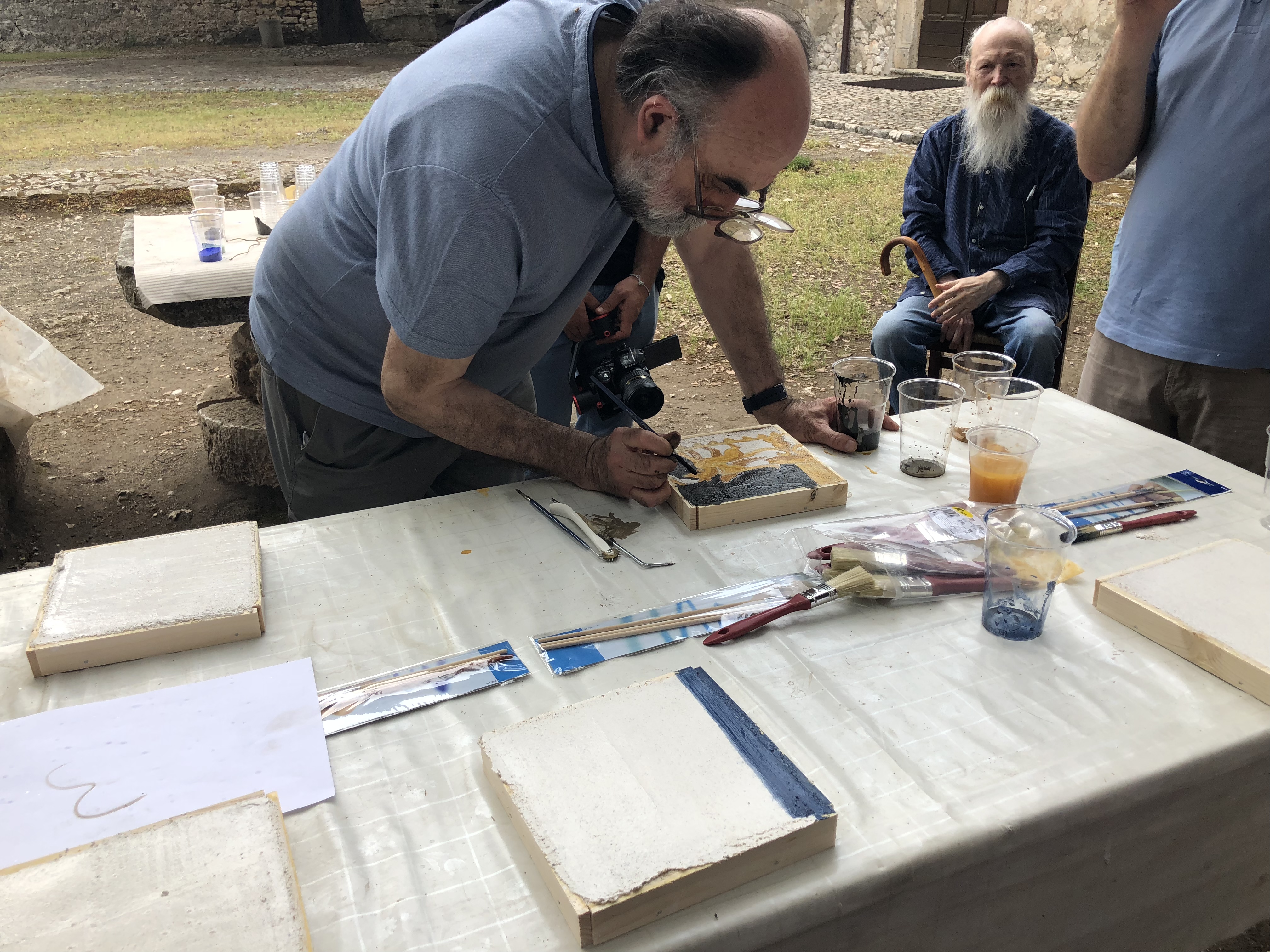 Marco's father demonstrating his art
We then began the process of making our own frescoes, following the steps of the traditional technique. We were each given a slab of mortar on a wooden frame. While we waited for the mortar to dry, we worked on our designs. Some of us chose to attempt replicas of Roman designs, while others took a more modern approach. After our designs were finished, we used a tool to create holes in the paper along the outlines of our figures. We then set the designs on the pieces of mortar and hit dye encased in handkerchiefs along the holes. The dye seeped through the holes and created the outline for us to follow. In ancient times, artisans would create a second layer of mortar over this draft, called a sinopia, and restart their work. We skipped this step and went directly to filling in our art with pigments.
The dyes we used on our frescoes
The pigments on the right in the photo above were pigments available in ancient times, created using elements such as copper. The pigments on the left are those that are available now but weren't used by the Romans. In the middle is an unstable blue pigment that fades rapidly. Marco's father used this color in his demonstration to show us how quickly it fades.
After several hours, we were finished with our masterpieces!
Clev and her rendition of Ecce Homo
This summer, Professor Admir Masic is leading a program on Materials in Art, Archaeology and Architecture (ONE-MA3), in which MIT undergraduates are conducting three weeks of fieldwork in Privernum, Pompeii and Turin as a prerequisite for the Fall 2018 MIT course, 1.057 Heritage Science and Technology.  The program involves real-world analysis of ancient infrastructures and materials and focus on teaching ways to improve sustainability of the future through the study of ancient successes.
---