TREX 2018 Day 16: Last Day of TREX
Published on:
Feb 03, 2018
Feb
03
2018

By Ju Chulakadabba '19
On the last day of TREX 2018, we spent most of the day on a plane since we left Hawaii the night before, kept flying from Hawaii to San Fransisco, then San Francisco to Boston. On top of that, our day was relatively short (only 19-hours long) since we lost 5 hours due to timezone change.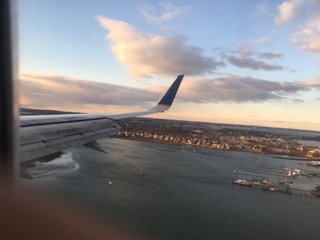 We were back in Boston!
Unlike on the way to Hawaii, I slept pretty much the whole time on the way back. When awake, I took time to reflect on my TREX experience, and what I planed to do in the coming semester. To be honest, I could not believe that my time in Hawaii was already over. I had been waiting for TREX since freshman year and now, it had become one of the greatest memories of my life. It amazed me that in only three and a half weeks, 7 TREXers, 2 TAs, and 3 professors could become so close, so fast. We learned not only science but also life skills. We learned how to conduct fieldwork, how to solve unexpected issues that made our lives challenging, and, the most important thing, we appreciated our existence. This world is beautiful. There are so many things waiting for us to discover. Actually, there are more things to be thankful for, I just cannot express all of them in words.
We arrived in Boston safe and sound a little bit before 5 PM on Friday. Our TA Josh was in charge of taking all the soil samples back to MIT. Because everyone else seemed to be really tired and lived relatively far away from Parsons, James, Chang, and I volunteered to help Josh out. Just like on the way to Hawaii, we fit all of the crates and suitcases into two Uber XLs. The cold and the classic Boston traffic did not bother us that much. We eventually arrived at Parsons and moved all of our items into the basement storage. We will be reunited with these crates next week, once we start our 1.092 class.
Josh '19 was so happy to see all the luggages and crates arrived in Boston safely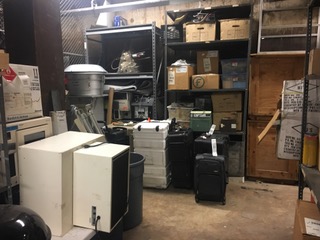 Our crates were secured in the Parsons' basement storage
Every year, a group of MIT students and professors travel to the Big Island of Hawaii to gain fieldwork experience through TREX (Traveling Research Environmental EXperiences). The first TREX trip was held in 2000, and since launching has taken students on research activities in domestic and international settings. For more undergraduate opportunities, click here.
---