TREX 2018 Day 6: Don't go chasing waterfalls
Published on:
Jan 23, 2018
Jan
23
2018

By Meghan Reisenauer '19
A sea turtle rests on Punalu'u beach
We began the day by splitting into two groups again. David, Josh, Chang and I went with professor Kocar to bring the equipment to our new house in Volcano. First, though, we had some time to kill, so we stopped at Punalu'u black sand beach! We were able to see some sea turtles resting on the sand, and watched one pull itself up onto the beach from the ocean.
Later, we went back to Ha farm to take some soil samples. The rain didn't let up on us as we squished through the corn and troweled some wet soil into ziploc bags. Iceman (our drone) went out on another flight, this time over both the north and south fields. It was a long and tough day, but soon we were done and heading back.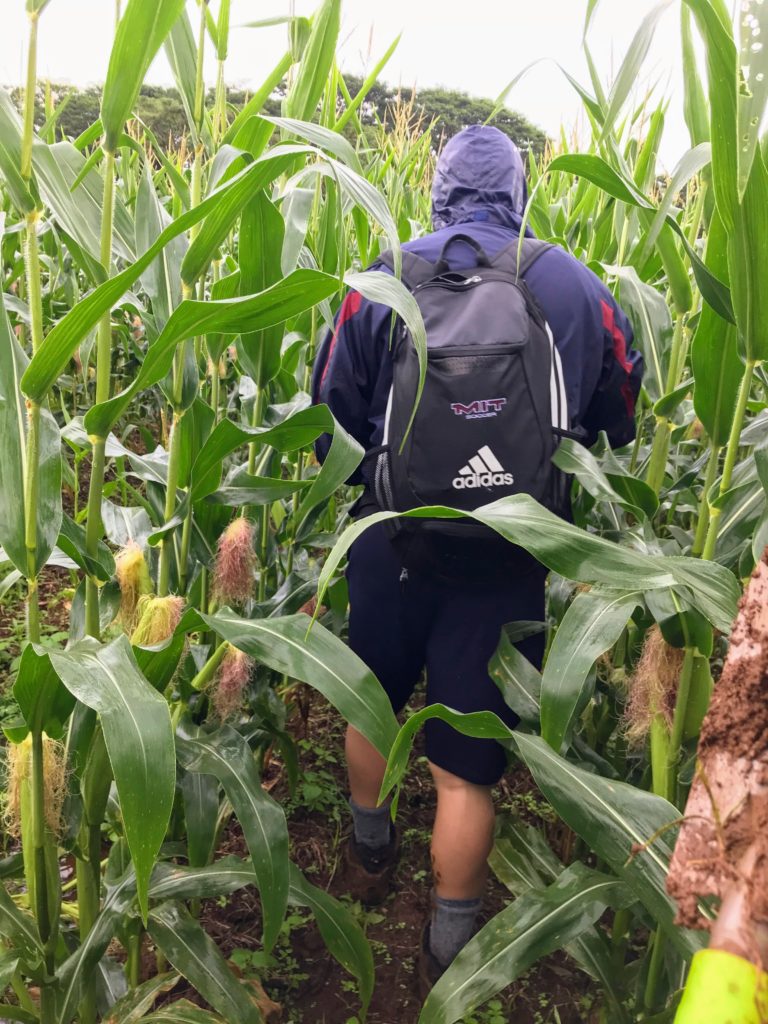 David and I trudged through the rows of corn to collect soil
We made another quick stop at 'Akaka Falls state park, where I realized I had been before! I visited the park over a spring break trip in high school with a friend's family.
'Akaka Falls
Kahuna and 'Akaka Falls were beautiful and majestic. We also learned about some fascinating organisms, a small shrimp and goby fish, which climb the water-slicked sides of the 442-foot waterfall!
A fascinating spiral plant at the State Park
Back at the cabin, we got a fire going – that's right, dear reader, our experience in Hawaii has not been that sunny paradise just yet! – after hot showers and some delicious Thai food. We were all exhausted, so we skipped the science talks tonight.
Every year, a group of MIT students and professors travel to the Big Island of Hawaii to gain fieldwork experience through TREX (Traveling Research Environmental EXperiences). The first TREX trip was held in 2000, and since launching has taken students on research activities in domestic and international settings. For more undergraduate opportunities, click here.
---