TREX 2018 Day 8: Second Chances
Published on:
Jan 25, 2018
Jan
25
2018

By Ju Chulakadabba '19
Do you remember when you do things for the first time? They do not normally go well, right? For this trip, things did not go well either when we did them the first time. Fortunately, when we had second chances, things seemed to be better.
Today we divided into two groups again. The air quality group had Joey, Chang, our TA Josh, and Ju. Our plan was to take all our baby sensors back and analyze the data.
We went to the same route the other group went the day before. This time, we got a little bit smarter. Instead of picking up the sensors from the closest one like how we deployed them the other day, we started picking up the sensors from the furthest one. Because today was the second time traveling on the route, everything went smoother. We finished the trip earlier and got most of the data we need for our presentation.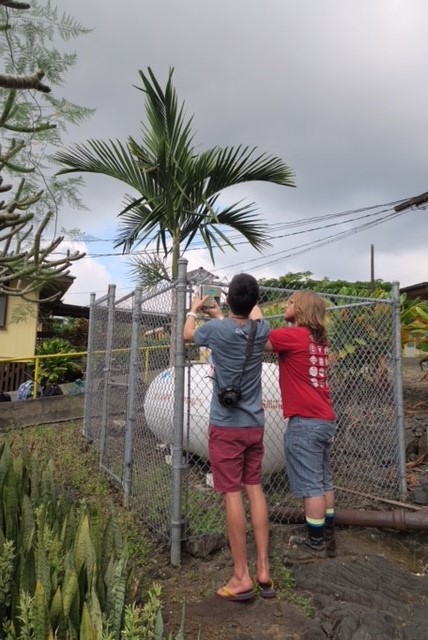 Chang and Joey collected the sensor
In addition to picking up sensors, we also set PM and SO2 sensors on top of our minivans to track the PM and SO2 levels wherever we went, instead of only putting the PM sensor, which we did the previous day. The PM sensor's name was Calvin, but the SO2 sensor did not have a name. To accompany Calvin and make Calvin not too lonely on top of the minivan, we named the SO2 sensor Clair.
The sensors, Clair and Calvin, on the minivan
We also used a GPS tracker to track the precise route we went, which the other group did not do the day before. By the end of the day, when we checked Calvin and Clair, we got a lot of interesting data. We could see relationships between SO2 and PM, the PM development in a function of distance from the volcanoes, connections to the topology of Hawaii, and more!
Besides the second times for experiments, we also went to the South Point for the second time, because Chang had not been there yet (and we need to get some background air data too.) We eventually reached the southern-most point of the United States, which we missed the other day. Everything that happened today ensured me that things could not happen the same ways twice; the second times tend to be better if we do everything right.
The actual South Point
Every year, a group of MIT students and professors travel to the Big Island of Hawaii to gain fieldwork experience through TREX (Traveling Research Environmental EXperiences). The first TREX trip was held in 2000, and since launching has taken students on research activities in domestic and international settings. For more undergraduate opportunities, click here.
---